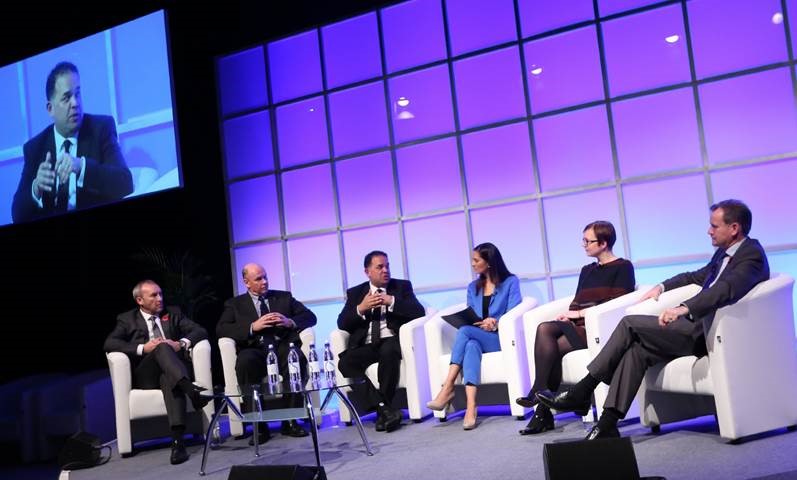 Brexit talks top the agenda on opening day of WTM London
Brexit talks top the agenda on opening day of WTM London
Fears about the impact of a 'no-deal' Brexit on the travel trade dominated debates at World Travel Market London – the leading global event for the travel industry.
The European Parliament's Brexit negotiator, Guy Verhofstadt MEP, told industry bosses that a 'no-deal' outcome was the worst-case scenario for travel and other sectors.
Dubbed the 'Brexit botherer' by some British media, the former Belgian PM outlined his vision for a 'United States of Europe' – along the lines of the United States of America – at the Leaders' Lunch on day one of WTM London.
He told delegates that he is looking at the possibility of UK citizens being able to apply for EU citizenship after Brexit, and agreed with British Prime Minister Theresa May that there should be a transition period so there is no disruption to the economy.
• A 'no-deal' Brexit would also be the worst-case scenario for the travel budgets of UK consumers.
Caroline Bremner, Head of Travel at Euromonitor International, forecast that GDP growth in 2019 will be just 0.5% if there is no Brexit deal – but if a transitional arrangement is struck, then growth rates will remain between 1.5% and 2%.
"The outbound market will bear the brunt of a no-deal Brexit, as it will reduce demand by 5%," she said.
"Spain will be the worst hit, losing one million Brits between 2017 and 2022."
Other speakers in the World Travel Leaders debate agreed that UK consumer confidence could be hit next year but Brits will still prioritise spending on holidays above other expenditure.
However, there were widespread concerns for EU migrant workers based in the UK and the uncertainty about their future.
• Inbound operators are reaping benefits from the Brexit effect, thanks to the weak pound.
Rob Russell, Joint Managing Director of the AC Travel Group, said business from the US this year "will be 67% up" – but echoed the concerns about staff.
Euromonitor International predicts that a 'no-deal' Brexit will lead to further falls in sterling, which will make the UK an even better value destination for overseas visitors.
• Away from the Brexit debates, the event saw brisk business as the first day got under way.
Proceedings kicked off with a busy speed networking session, attended by exhibitors and buyers from across the world making useful business contacts to follow up over the course of WTM London and beyond.
• Italy highlighted its title as the 'world's favourite destination', after coming top in a poll of where foreign tourists would prefer to go on holiday.
When asked: "Where would you go on holiday if you won a free trip?", more than a third (37%) of respondents said they would visit Italy – ahead of the US and Australia.
Italy is WTM London 2017's Premier Partner and is hosting 230 exhibitors from 17 regions on two main booths.
The Italian tourist board wants to promote regional tourism products and hidden beauty spots, according to Italy's Minister for Cultural Heritage, Activities and Tourism, Dario Franceschini.
• British Airways' Chief Executive, Alex Cruz, revealed plans for a £4.5 billion investment in the airline's fleet, telling delegates: "The glory days are coming."
New Club World seats will be unveiled in 2019, offering passengers full aisle access, and there will be a revamp of the long-haul economy cabin to set BA apart from low-cost rivals.
Cruz said passengers in long-haul economy will have more access to snacks and drinks, and will be served a second full meal during longer flights.
And he assured delegates: "First class is here to stay."
The WTM London aviation session also heard from Skuli Mogensen, founder of Icelandic budget airline WOW air.
He outlined plans to fly to Asia from Reykjavík, and spoke of his ambition to create an international hub in Iceland, connecting the US with Asian destinations.
• UK visitor numbers to Egypt are up by more than 30% year-on-year in the first nine months of 2017 – despite the UK government's continuing refusal to allow direct flights to Sharm el Sheikh airport.
Nasser Kamel, Egypt's ambassador to the UK, declared: "The whole world has decided [that Sharm el Sheikh] is safe, except for the British government."
Between $30 million and $50 million has been spent on improved security measures at Sharm el Sheikh since the UK imposed a ban on direct flights to the airport after the bombing of a Russian charter flight in November 2015.
Egypt authorities have worked closely with British government and private sector experts, with Kamel saying that Sharm "is now safer than some UK airports".
About 230,000 Brits have visited Egypt so far this year, compared to one million in 2010.
• With 75% of the Caribbean unaffected by Hurricanes Irma and Maria, the region is on track to record a 1.2% increase in international arrivals for 2017.
Hugh Riley, Secretary General of the Caribbean Tourism Organisation, said the areas that had been hit are on the road to recovery.
"The Caribbean remains open for business. We are going to end the year in positive territory despite the storms," he said.
• Absolutely Fabulous star Joanna Lumley joined Greek tourism minister Elena Kountoura to highlight the attractions of Greece.
Arrivals have grown from 26 million in 2015 to 28 million in 2016, with BRIC (Brazil, Russia, India and China) countries becoming increasingly important.
Greece hopes it will soon top 30 million annual visitors.
Lumley urged tourists to visit Greece, following her recent TV series, Joanna Lumley's Greek Odyssey.
• Gibraltar's 2018 tourism campaign will revolve around a Year of Culture theme to increase the number of overnight visitors.
Most of its 10.5 million visitors are day trippers, and the government hopes that music, literary and sporting festivals will persuade more to stay longer.
• The overseas weddings market is virtually 'recession proof'; continually growing; and full of opportunities, according to Susan Barone, moderator of WTM London's first dedicated weddings seminar event.
The event saw the launch of a major competition offering one lucky couple the chance to win an all-expenses-paid wedding in Sri Lanka – including 50 guests. The Cinnamon Islands Wedding prize includes return airfares, full-board accommodation, internal transfers, a wedding reception with attire, jewellery, a curated wedding menu and photography.
• Wellness resorts are increasingly seeing customers seeking total silence, while others are reporting a rise in demand for nature, art and culture.
Susie Ellis, Chairman of the Global Wellness Institute, said mental wellness was another growth area, and the ESPA Life spa at London's Corinthia hotel has seen great demand for its new neuroscientist in residence.
eTN is a media partner for WTM.