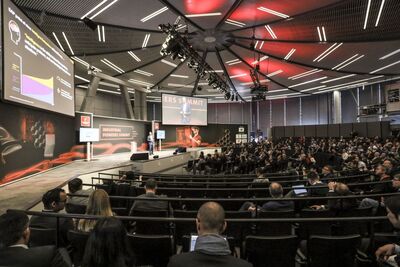 Knowledge platform HANNOVER MESSE
Globalization has fostered prosperity around the world, but two years of pandemic and the war in Ukraine are significantly affecting global economic growth. Covid closed borders and interrupted supply chains; the war in Ukraine started an energy crisis. How will these developments influence the world economy in the medium and long term? And which technologies can meet these challenges? From 30 May to 2 June 2022, exhibitors at HANNOVER MESSE discuss these topics and many more.
HANNOVER MESSE is a unique knowledge platform that features more than 600 presentations and panel discussions. Various topic-based stages host companies presenting their strategies and solutions for current global challenges
For example, the Main Stage in H'Up focuses on the topics of sustainability, climate protection and green hydrogen. On Monday, energy experts from Bosch, Siemens and Nea Green discuss how important green hydrogen is to energy diversification. On Tuesday, Germany's Ministry for Economic Affairs and Climate Protection (BMWK) stages the Lightweighting Summit. Dr. Robert Habeck, Germany's Minister of Economics, is patron. His talk covers climate protection, resource efficiency and resilience – issues that are more relevant than ever.
Ads: Through virtual tour technology and floorplan design tools, we make planning and selling events easy!
The Industry 4.0 Stage in Hall 8 covers topics such as digital twins, B2B platform economies, interoperability, additive manufacturing, predictive maintenance, and cyber security. A new subject is Manufacturing-as-a-Service (MaaS), which offers goods production as a service. MaaS not only enables new business models, but also increases the resilience, transparency, sustainability and flexibility of supply chains. The automobile industry's large-scale Catena-X project serves as an important MaaS use case, because it uses the Smart Factory Web's open architecture and realizes a MaaS service landscape.
The International MES Conference, which runs 2 June at the Industrie 4.0 stage, examines ways of making production more sustainable and economical and highlights how MES can enable Industrie 4.0 and sustainability.
The Energy 4.0 Stage in Hall 12 spotlights trends for an energy-intelligent, climate-friendly and sustainable future. Industry experts discuss how we can transform energy systems, use resources more sustainably and radically reduce CO2 emissions.
Source:  HANNOVER MESSE