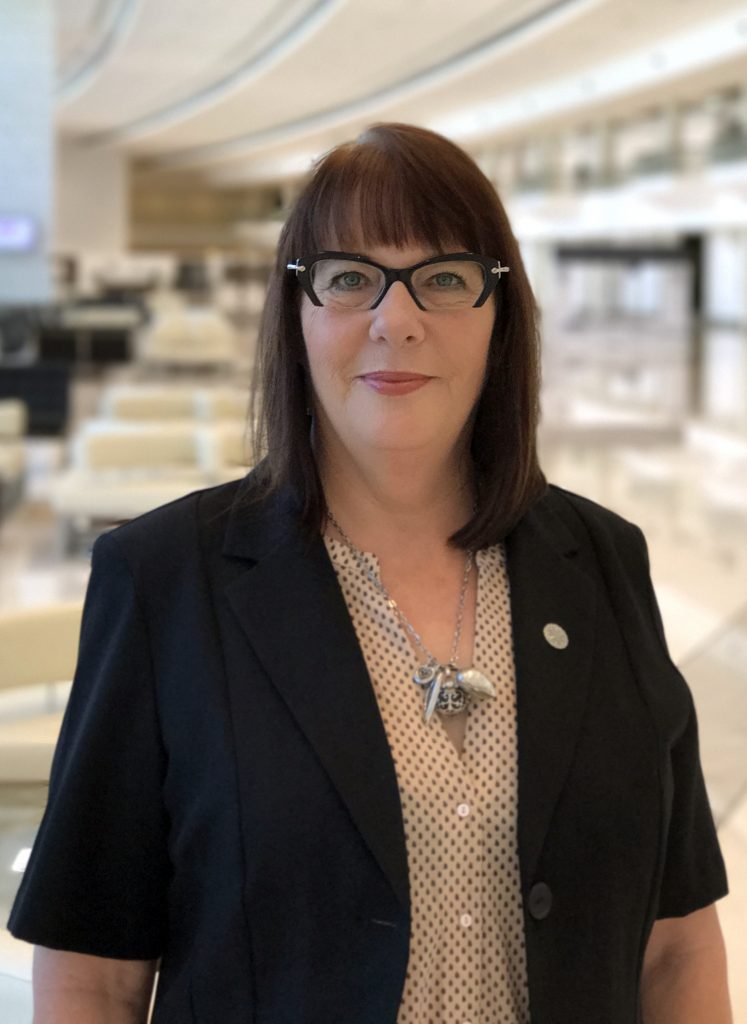 Oman Convention and Exhibition Center appoints Director of Operations
The Oman Convention & Exhibition Centre is delighted to annouce the appointment of Ms. Debra Simkiss as Director of Operations and Ms. Ekta Gandhi as Marketing & Communications Manager.
With over 25 years in the hospitality and convention industry, Debra brings with her a wealth of knowledge from game lodges to luxury hotels to convention centres. Debra's career took a turn to the convention business with the opening of the Sandton Convention Centre in Johannesburg, South Africa in 2000. She worked her way from Senior Event Co-ordinator to Event Manager and then in 2008 to the executive role of Director of Operations until 2017.  During this period she was directly involved in some of the largest events in the centre including the World Summit on Sustainable Development, The Arnold Classic, Southern African Development Commission  and The United Nations World Tourism Organisation Summit and has rubbed shoulders with some of the world's most powerful leaders.
Debra's core values focus on empowering others and a commitment to service excellence. Debra has been recognised in the industry as she was named one of the "Top 40 Women in Meetings, Incentives, Conferences and Events" in 2016.  Debra also has a certification in business coaching and looks forward to using these skills in her new postion.
OCEC is pleased to annouce a second appointment; Ekta Gandhi, in the position of Marketing & Communications Manager. With over 8 years of experience in the tourism industry working in luxury hotels and resorts, Ekta brings with her a solid understanding of Marketing & Communications within the Sultanate of Oman. Ekta moved to Oman in 2013 and joined the award-winning Chedi Muscat as their Marketing & Communications Executive. In 2015, Ekta joined the pre-opening team for Anantara Al Jabal Al Akhdar Resort as their yougest department head in the entire team,  and successfully opened the resort as their Marketing & Communications Manager, attracting media recognition from all corners of the globe.
In her role at the Oman Convention & Exhibiton Centre, Ekta will be responsible for overseeing the Marketing Department and supporting the Business Development team. A Canadian national of Indian origin, Ekta has a Bachelor's degree in Hospitality Management from the Insititut Vatel in Nîmes, France, as well as further Hotel Mangement diplomas from Montreal, Canada including the prestigious Canadian Millenium scholarship based on merit for her leadership skills.
OCEC development is owned by Omran, Oman's Tourism Development Company and operated by AEG Ogden. The venue set to unveil a tiered theatre with 3,200 seats, a 450-seat auditorium, two ballrooms for banquets for up to 1,200 guests, 20 meeting rooms with a capacity of up to 360 delegates, hospitality suites and a VIP pavilion.
The Oman Convention & Exhibition Centre is located in its own fully integrated precinct only four kilometres from Muscat International Airport.  The design of the Centre ensures a flow of the meeting spaces to suit the most discerning conference and exhibition organisers. It also incorporates expansive concourse areas to enable ease of large delegations with floor to ceiling windows overlooking landscaped gardens and water features.
The Centre will feature two tiered auditoriums to seat 3,200 and 456, while the five exhibition halls feature 22,396 square metres of column-free exhibition space. Hall 1 acts as a multi-purpose space for plenary sessions, concerts, performances and gala dinners on a larger scale. Halls 1 & 2 combined can seat over 10,000 seated in theatre-style.
The Centre will also include an additional 20 meeting rooms for 25-360 delegates, a Grand Ballroom to seat up to 1,200 guests, a Junior Ballroom to seat up to 540 guests for a banquet, 10 hospitality suites, and a VIP Pavilion. In total the Centre offers over 55 meeting space options plus a multi-storey car park with a capacity for 4,000 vehicles.
The Precinct will provide the infrastructure necessary to host successful international, regional and local events and is there for the enjoyment of delegates, visitors and the local community. The precinct includes a JW Marriott Hotel (five star) linked to the Convention Centre, Crowne Plaza Hotel (four star). A business park and a retail shopping mall, surrounded by a nature reserve which will be a haven for Oman's exotic birdlife, together with parklands and a wadi (valley) park, are also part of this picturesque precinct.
About AEG Ogden
AEG Ogden is part of AEG Facilities of the United States, a division of AEG, the world's leading sports and live entertainment company.
AEG Ogden manages venues throughout the Asia Pacific and Middle East, including convention and exhibition centres in Brisbane, Cairns, Darwin, Kuala Lumpur, Oman, and the ICC Sydney; Suncorp Stadium in Brisbane; and arenas including the Brisbane Entertainment Centre and adjacent Sports Centre, Sydney's Qudos Bank Arena, the Newcastle Entertainment Centre, Perth Arena, and Dubai Arena (opening December 2018). AEG Ogden is also the owner of National Basketball League (NBL) team, the Sydney Kings. In addition, AEG Facilities operates the Los Angeles Convention Centre, Hawaii Convention Centre, and Puerto Rico Convention Centre. More information aegworldwide.com
About OMRAN
Oman Tourism Development Company SAOC (Omran) drives the investment, growth and development of the rapidly growing tourism sector in the Sultanate of Oman. The company is the master developer of major tourism, heritage, urban and mixed-use projects, delivering some of nation's most visionary and iconic destinations. As the leading executive government arm for tourism development, Omran has a proven track record of delivering tourism and related projects to a world-class standard, due to our core philosophy of sustainability, transparency and partnering with renowned regional and international investors.
Importantly, by working in close collaboration with the local communities, as well as the public and private sector, sustainability is built into every project. The company's portfolio of projects, asset management expertise and investment experience embraces the unique aspects of Oman's culture and heritage, while safeguarding the natural beauty of the country for the future generations.