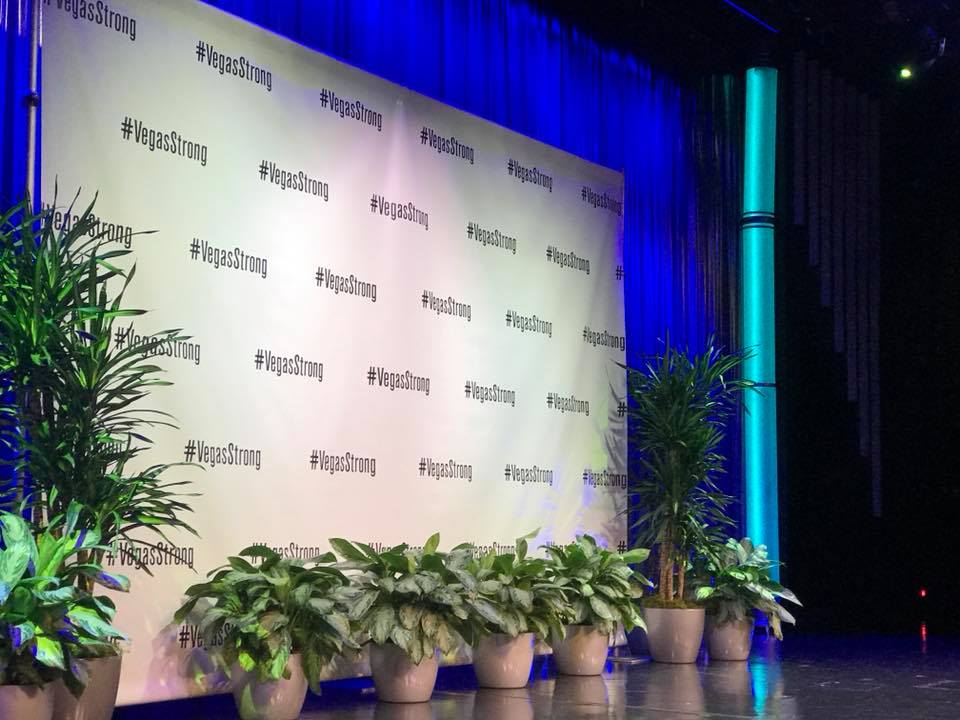 VegasStrong: Travel leaders speak out about the aftermath of horrific shooting
Today, IMEX America started in Las Vegas. Who could have known the most important travel and tourism meeting and incentive trade show would bring leaders of the global tourism world together in Las Vegas one week after the city was hit by the largest mass shooting and attack on tourism?
Ray Bloom, Chairman and Founder of IMEX Group, told a packed audience of journalists today that immediately when he heard about the event, his organization got in motion to do anything and everything to help and have the event go on.
This was an opportunity for the travel industry to stand together and keep #VegasStrong.
Las Vegas will never be the same, but it will be stronger, said Ray Bloom, adding that the travel industry is the largest industry in the world, but also a small family. It was Bloom who said there will be no cancellations of meetings or conventions. He believed everyone should show their faith and go forward and support the community.
Chuck Bowling, President and Chief Operating Officer, MGM Mandalay Bay Resort and Casino shared that after this tragic event, Las Vegas immediately sprung into action. Hotel rooms were being offered, and people were coming in with water, pizzas, blankets, jackets – all without being asked. This was Las Vegas at its finest.
Vegas is a caring community, and leaders in the travel, hotel, and meetings industry were up in the wee hours of the morning setting up a command center to get correct information out to the public and to help the MGM Group through this nightmare.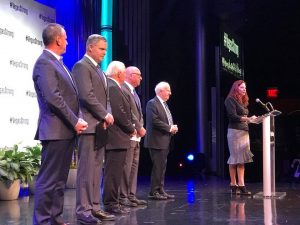 "It was in hearing from our customers and witnessing their support that the overall message of #VegasStrong was created. And it is this support that changed the way I see our customers. They are no longer visitors, they are friends," Bowling said.
Roger Dow, CEO, US Travel Association, said that he was simply there to voice support of the 2.3-trillion-dollar, 15-million-employee US travel industry. He said, "It is an incredibly strong and at the same time fragile industry, as we have all witnessed natural disasters or human situations, as in what happened in Vegas 9 days ago."
He stated that the media often paints the bad side of these disasters and fuels the flames of fear, and that everyone here has an obligation to carry out a positive message.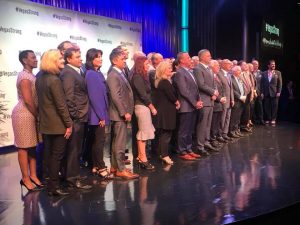 James Murren, Chairman & CEO, MGM Resorts, stated, "We are heart broken, but we are not broken."
"I don't know whether anyone can be fully prepared for something like this, but I can tell you that I never felt alone. I represent 50,000 men and women here in Las Vegas that work for MGM Resorts. And they, of course, represent hundreds of thousands of families here. Always remember that the reason why you have a great time when you come here, is because of those men and women. And they have a job, because of you," he said, adding, "IMEX being here is really beautiful – almost poetic, given what we've been through over these past few days."
He stated that more than anything else, the meetings and convention business is the backbone of this entire business model, and he thanked everyone for their presence and support.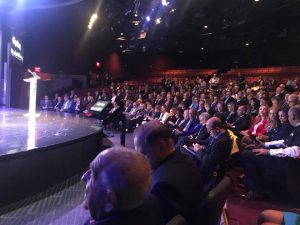 David Peckinpaugh, President, Maritz Global Events, shared that he has been asked this one question over and over again:
"Will Vegas ever be the same?"
His response to that was, "I think the answer is no, but I think Vegas will be better for this and will continue to thrive well in the future. As an industry that is involved in meetings, events, incentives, trade shows, the entire MICE spectrum, the best thing that we can do as an industry … is to make sure that we are educating our clients, informing them of the facts, getting rid of all the untruths that are out there.
"Is Vegas different? Yes, but it is the same excellent experience, and it will continue to be that in the future. And we have to let our customers know that this is a great place to hold our events.
"While we cannot guarantee safety, we can continue to be diligent."
eTN Publisher Juergen Steinmetz attended the event and had many questions, but unfortunately, no questions were allowed. The time for this will come, of course, and it will come soon.
Today, top players in the industry met top journalists in a moment of reflection and silence. The future starts here for Las Vegas to be strong.