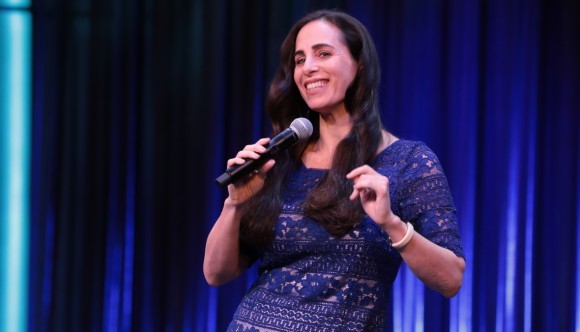 Planners learn ways to invest in business and community at IMEX America
''The golden keys to your company's success'' this is how Juliet Funt, MPI keynote speaker at IMEX America 2017 explains the power of White Space.
With 204 million emails sent per minute, the relentlessly reactive nature of our daily work squeezes out time for strategic, creative thinking and Juliet wants people to reclaim this.
She helps business leaders and their staff carve out valuable time for consideration and insight – called White Space – leading ultimately to a boost in business productivity.
Juliet revealed her strategies during her session 'Activity is not Productivity' which launched the first day of IMEX America, currently taking place in Las Vegas. She shared simple practices for planners to implement, designed to boost productivity and creativity.
These were well received as buyer Cori Hall, marketing co-ordinator at Convention Data Services, explains: "Innovation and creativity should be a priority in my organization, but all too often it's pushed aside due to the sheer volume of work." Garland Preddy, director of training and education at the Society of Government Meeting Professionals, agrees: "I feel like I'm on a hamster wheel and really need, along with other meeting planners, to slow down and reassess what's really important."
Building on this, new White Space areas on the show floor and at the Inspiration Hub give attendees the opportunity to pause and reflect as well as explore further together some of the education sessions.
Weaving well-being into professional & personal life
Attendees can also enjoy a daily dose of well-being at the Be Well Lounge, sponsored by Hilton. Mindfulness trainer Lee Papa and her expert team believe "business and mindfulness go hand in hand" and offer regular sessions on mindfulness and meditation every day. ''I'm a firm believer in the reviving power of meditation and its increasing role within meetings and events,'' explains Stephanie Seefried from Team Seefried Group. On Wednesday the popular #IMEXrun returns, with hundreds of individuals and teams expected to take on the 5km route along the famous Las Vegas Strip.
Making an impact – nurturing the environment & community
In a session organized by MPI, there were opportunities for planners to benchmark their activities against others through the Global Destinations Sustainability Index, and also to look "behind the scenes" at The Venetian® | The Palazzo® and the Sands Expo® to see how the hotel and venue minimize waste and maximize recycling. Planners learnt how Sands, host to some of the largest conventions in the world, recycles 50% – 60% of all waste as part of its sustainability program, Sands Eco 360. ''A finely tuned process delivered on a vast scale'' is how one planner, Tracy Stuckrath, founder and chief connecting officer of Thrive! Meetings & Events, described it.
IMEX America is again reinforcing its strong commitment to CSR and sustainability. This year for the first time it is partnering with "Spread the Word Nevada", a literacy non-profit organization. Attendees are bringing their favorite book to the CSR & Sustainability showcase at the show to donate to the local charity which will pass them on to children and adults across Southern Nevada.