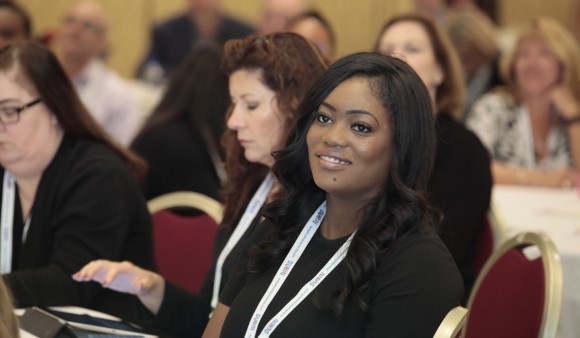 Purpose, customization and hands-on experiences at the heart of Smart Monday
1,000 meeting pros jumped right into the IMEX week today with a stronger-than ever Smart Monday line-up.
Powered by MPI, Smart Monday offered attendees the ability to customize their learning experience, do peer-to peer knowledge sharing, and gain hands-on insights.
Once again, the sessions were offered for free with over 43 sessions contributing credit towards CE hour tallies, and 15 classes being ILEA approved.
Purpose is Paramount & Other Hot Topics
As an overarching thought for the day, the show's talking point of Purposeful Meetings was front and center with MPI Keynote Janet Sperstad, CMP of Madison College revealing the results of the IMEX and PSAV sponsored Purposeful Meetings white paper. Purposeful Meetings are meetings that are thoughtfully designed as human-centric experiences to deliver lasting impact and insights by tapping into behavioral science, meeting design, technology, health & well-being and CSR in new and interesting ways.
Other hot conversation and learning topics included: safety and security, leadership skills, travel bans and boycotts, cyber safety, F&B and more.
PCMA's Business School also took place, featuring Cleveland Justis, Executive Director, Institute for Innovation, UC Davis who helped industry pros wrap their heads around how to weave innovation into their everyday work.
Tina-Marie Wassmann, principal of TNC Events shared her thoughts on this always-energizing part of the day, "This is really enjoyable, interesting and fun. I'm learning new ideas and he's taking me out of my comfort zone. He's easy to listen to and very engaging. It's been a great afternoon."
Zeroing-in to Expand Thinking
Helping Smart Monday participants do peer to peer knowledge sharing, the IMEX Executive Meeting Forum welcomed planners from corporate powerhouses like EY (formerly Ernst & Young), DHL, Allianz AG, BP, Toyota, PwC, McDonald's, Wells Fargo and Cisco Systems.
Peggy Fritz, Meeting Services Supervisor for Toyota North America had this to say about the value of the top-level forum, "Talking with professionals in the same position as me means I get to benchmark – see how others approach challenges. Networking and developing these relationships is important – it's reassuring to know we're not on an island by ourselves."
On the association front, the day's new Association Leadership Forum – created in association with ASAE: The Center for Association Leadership – didn't disappoint providing a strategic look at senior-suitable topics such as governance, talent management, strategic planning, M&A and global management and leveraging technology to increase member engagement.
"The speakers and thinking are at a much higher level here today – at a big picture level," said Frank Gainer Director of Conferences for the American Occupational Therapy Association. "It gets you thinking and I have a list of ideas and questions to discuss with my team – and my boss – when I get back."
For delegates focused on incentives or event design, or for those working towards their CMP or CEM certifications there was also a SITE CIS deep dive with Growmark and Tepper Inc.; Event Design Certificate Program Level 1 of Mastery headed by the Event Design Collective; a CMP Master Class led by Destination Nashville and The Ordinary Success Project plus an IAEE CEM Course.
Strike a Pose & The Power of Pets, Play and Tours
Switching gears, those wanting to find their "chi" from within and understand the benefits of building in performance-boosting chill-out time had a wide variety of guided meditation sessions to choose from with Lee Papa. Petting a "pup" returned as well with Paws For a Break sponsored by Visit Norfolk raising smiles and lowering blood pressures.
Play was also alive and well with Gary Bordman the Chief Interactive Designer of Amusement, Exhibit and Event Services hosting creative sessions in the new Live Zone. Lego furniture and life-sized PAC-MAN and Etch-a-Sketch all featured, as well as a class called 'Enigma' on how to use escape rooms for cocktail hours or team building, led by Play with a Purpose.
A variety of other activities gave attendees first-hand perspectives including: Back-of-House tours of the Sands Expo/Venetian/Palazzo; an IMEX America CSR and Sustainability Showcase sponsored by Costa Rica and supported by Allied PRA and GES; and a Volun-Tour: Mobile Hygiene Unit tour with Clean the World.
Networking Nirvana
Finally, from morning thru night Smart Monday participants had more chances to mix, mingle and connect. The day began by teeing off at the 25th annual Shamrock Shootout Golf Tournament making its IMEX America debut at Cascata, and a Smart Monday luncheon hosted by Marriott.
At the end of the day the industry came together for the ever-popular Association Evening, and a new North Texas Reception organized by MPI, the Arlington CVB and the Irving CVB. SITE Nite North America also give back to the SITE Foundation at Brooklyn Bowl at The Linq.
All week long IMEX America is providing updated information on its website about how people can help Las Vegas in light of recent events. For more information, click here.