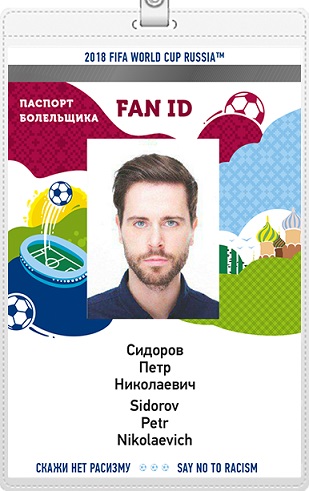 Spectator personalized card (FAN ID): Visa-free entry to Russia during 2018 FIFA World Cup
FAN ID card was presented at the press conference in Las Vegas during the America's worldwide exhibition IMEX. Inessa Grig, Head of tourist activities coordination office of Moscow Department of Sport and Tourism, shared information about preparing for the upcoming 2018 FIFA World Cup and presented the ID card. The spectator's personalized card is mandatory for each ticket holder. FAN ID will let foreign tourists visa-free entry to Russia and free public transit during match days and free special trains circulating between the World Cup host cities.
"We can say that now Moscow is a capital of world football," said Inessa Grig. "More then 152 000 people visited the FIFA Confederations Cup Russia 2017. We place importance on the visa-free project for foreign tourists. About 3,000 football fans from 80 visa-entry countries have already come to Russia with fan ID cards. Moscow is to host the 2018 FIFA World Cup next year and is making preparations to host more than one million of football fans. A new ID card scheme will allow football fans to enter the country without a visa during long period – from 10 days before and 10 days after the 2018 FIFA World Cup."
Foreign tourists will be able to use FAN ID on special trains circulating between the World Cup host cities. It will allow take free rides on public transit when heading to and from the venues of the 2018 FIFA World Cup. The main function of Fan ID is to personalize themselves and provide safety and security arrangements. It will provide better security for all the spectators. If you lose the ID card, it will be restored at the FAN ID Registration Center right at the stadium. Foreign tourists can choose postal or email delivery. They can apply for FAN ID online at the official website fan-id.ru or in person, at the FAN ID Registration Center after receiving ticket confirmation or any special pass. It is possible to get free ride tickets on public transport on match days at the official website of the Transport Directorate of 2018 FIFA World Cup Russia: transport2018.com.
Football matches will take place at the Spartak Stadium and the Luzhniki Grand Sport Arena. 11 Russian cities is to host World Cup.
The general director of Global Russia DMC Fedor Vergus also spoke at the press conference. The company is responsible for hosting 2018 FIFA World Cup guests.
"We provide accommodation, transfer and tickets for football fans and guests. Moscow is the main city," said Feodor Vergus. "For large groups it will be more comfortable to stay in Moscow during the matches. Fans and spectators will be able to visit other cities on match days and then return to Moscow." The city has a lot of hotels to receive all fans. At the same time difficulties with accommodation may arise in other cities which will host the FIFA World Cup matches. So we recommend larger groups to return to Moscow just after football matches.
The classification of Moscow hotels is in progress. In October 1,183 certified hotels including hostels received stars. The average cost of accommodation at a three-star hotel is $72, at a five-star hotel – about $550 per day. The average cost of five-day tours for larger groups (40 tourists) is $610 for one person. Price includes accommodation at a four-star hotel, breakfast, tour guide services, six paths of excursions and one water-bus tour on the Moscow river.
The record tourists flow was registered in the Russian capital in 2016. 17.5 million people came to Moscow. During the New Year holiday, the city hosted almost 155 per cent more tourists than in 2010. The historical reenactment festival "Time and ages" and Russian Field (Russkoye Polye) Festival will take place in Moscow during 2018 FIFA World Cup.
Moscow has taken part in the America's worldwide exhibition IMEX for the first time this year. It took place in Las Vegas and is known as a crucial event in business tourism. Russia was presented there by companies such as Tsar Voyages, Global Russia DMC and PCO, Russian Railways, MB Prestige, ABT — ACTE Russia.