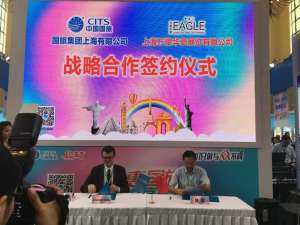 Shanghai World Travel Fair celebrates another successful edition
Shanghai World Travel Fair (SWTF) 2018, China's travel trade show co-organized by Shanghai Municipal Tourism Administration and Europe Asia Global Link Exhibitions – EAGLE (a company of Italian Exhibition Group, IEG, and VNU Exhibitions Asia) in cooperation with Shanghai International Convention & Exhibition Corp., Ltd., successfully concluded its 15th edition on May 27th, 2018.
Shanghai World Travel Fair 2018 closed with the signing of a strategic partnership established between EAGLE and the Shanghai branch of China International Travel Service (CITS) Group Corporation, one of China's largest and most influential tourism enterprises. The companies entered into a mutual endorsement agreement with the purpose of strengthening their cooperation on the Chinese and International markets. The focus will be on the further development of the B2B segment of the Shanghai World Travel Fair as well as close cooperation on projects related to the inbound tourism industry in China, a sector which will also have an important role at the Travel Trade Market, the new B2B travel show organized by EAGLE in Chengdu, Sichuan, scheduled to take place from 5th to 7th September 2018. The agreement was signed by Mr. Emanuele Guido, the Chairman of EAGLE and International e National Business Development of IEG and Mr. Lu Jun, the Vice President and General Manager of CITS Group Shanghai and it is the first of a series of important partnerships in line for EAGLE's development plan in the tourism sector in China.
750 exhibitors and co-exhibitors from 53 different countries exhibited their attractions, resources and travel services at the Shanghai World Travel Fair 2018, which ran as a B2B and B2C format, with the first 2 days dedicated to trade visitors only, and the last 2 days also open to the public. 11,925 visits were registered by trade visitors during the first 2 days of the show, whereas visiting end users totaled 43,820. The volume of travel packages' sales conducted on-site by some of China's largest travel agencies such as CITS, Spring Travel, Uzai, etc. grew by 25% from the previous edition, reaching RMB 50,925,000 (over 6.7 million euros).
Argentina, Bulgaria, Canada, Cuba, Czech Republic, Egypt, Finland, Iran, Italy, Japan, Malaysia, Mongolia, Norway, Mariana Islands, Russia, Switzerland, Sri Lanka, Tunisia and Peru were among the international destinations that showcased their country's beauty and attractions for Chinese travelers. At the same time, Chinese provinces such as Anhui, Jiangsu, Shanghai, Zhejiang, etc., some of the most important destinations and tourism-generating regions resulting from the development of connections in the Yangtze River delta, actively presented their attractions, cultural heritage, travel and tourism resources and services.
With its 15 years of contribution to the Chinese and world travel industries, Shanghai World Travel Fair has grown into one of China's leading international tourism marketplaces, a powerful platform with a strong focus on China's outbound tourism sector. The 16th edition of the show will take place again in the city of Shanghai in May 2019.
Related