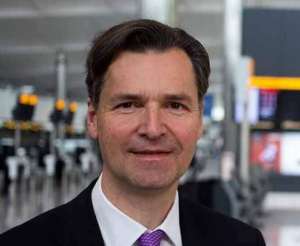 Heathrow to host British-Irish Airports Expo
Heathrow Airport will host this year's British-Irish Airports EXPO at Olympia London on 12-13 June 2018. The EXPO, which is the biggest trade show specifically dedicated to UK and Irish Airports, is set to have over 160 exhibitors and up to 3,000 visitors.
The event will see key figures from the British and Irish airport community discuss a range of topics including connectivity, infrastructure development and accessibility. This year's EXPO will include the annual conference of the Regional And Business Airports Group (RABA).
Over 70 key figures in the aviation industry, including LHR CEO, John Holland-Kaye, Aviation Minister, Baroness Sugg, Lord David Blunkett and easyJet Group Director of Strategy and Network, Robert Carey will contribute to sessions at one of the following five conferences:
• The Regional And Business Airports Group's Heathrow Connectivity Conference
• The Heathrow Expansion, Supply Chain, and Best Practice Conference
• The Civil Aviation Authority's PRM and Airport Accessibility Conference
• The British-Irish Airports Showcase Conference
• The Metropolitan Police Aviation Policing Command Airports Counter Terrorism Conference
LHR CEO, John Holland-Kaye said: "Heathrow is excited to be hosting the 3rd British-Irish Airports EXPO. As the UK's gateway, Heathrow plays a key role in the country's aviation industry and it's great to have this opportunity to showcase the work being done both within our airport and across the sector. Collaboration like this is essential if Britain and Ireland are to secure the connectivity needed to thrive post-Brexit."
Heathrow Airport (IATA: LHR, ICAO: EGLL) is a major international airport in London, United Kingdom. It is the second busiest airport in the world by international passenger traffic, as well as the busiest airport in Europe by passenger traffic, and the sixth busiest airport in the world by total passenger traffic. It is one of six international airports serving Greater London. In 2017, it handled a record 78.0 million passengers, a 3.1% increase from 2016.
Related