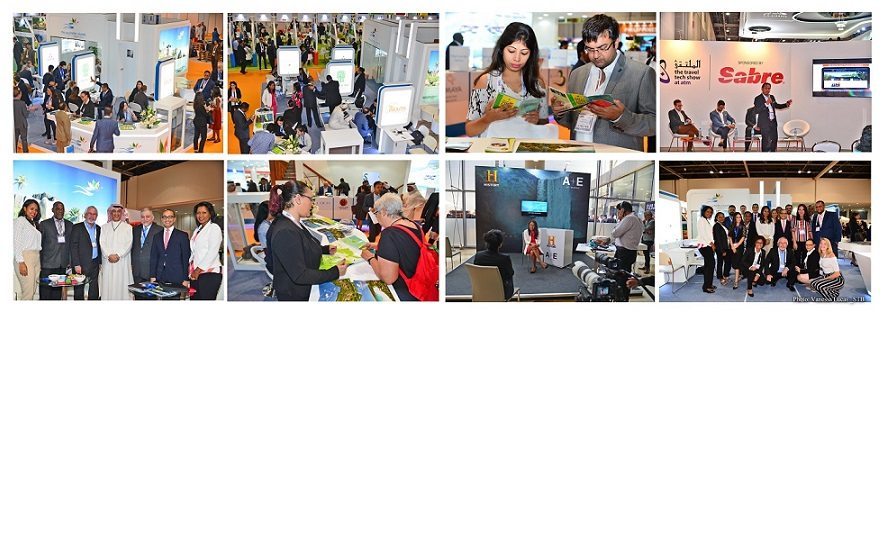 Seychelles Tourism Board records successful participation at the 2018 Arabian Travel Market in Dubai
The Seychelles Tourism Board (STB) participated in the 25th edition of the Arabian Travel Market (ATM), Middle East's largest travel trade event.
The 2018 ATM was held from April 22 to 25, at the Dubai International Convention and Exhibition Centre.
The 4-day event saw the participation of some 2,500 companies, including key industry players such as Emirates Airline, Etihad Airways, Emaar Hospitality Group, Rotana Group, among others.
The Seychelles' delegation was led by the outgoing Minister for Tourism, Civil Aviation, Ports and Marine, Maurice Loustau-Lalanne, who is now the new Minister of Finance, Trade, Investment and Economic Planning.
The Seychelles' Ambassador in the United Arab Emirates, Jean-Claude Adrienne, STB's Chief Executive, Sherin Francis, Manager of the tourism office in Dubai, Ahmed Fathallah, as well as representatives of some local Destination Management Companies and hotels, were also present.
The ATM travel trade show recorded over 40,000 attendees this year, highlighting Middle East's thriving tourism sector.
For STB, this was yet another successful participation at the ATM fair with numerous attendees having visited the stand, conducting meetings with exhibiting partners, such as 7°South, Vision Voyages, Air Seychelles, Banyan Tree Seychelles, Berjaya resorts, Eden Bleu, North Island, and Six Senses Zil Pasyon.
With the summer season fast approaching, coupled with other upcoming Middle Eastern holidays, the annual event was the ideal platform for the Seychelles Tourism Board and trade partners to further position the destination in the Middle East.
The ATM fair allows for tourism professionals to develop partnerships and for travel agents to become acquainted with the latest offers being made available by their local partners.
The United Arab Emirates together with the other GCC contribute a significant number of visitors to Seychelles. The United Arab Emirates alone was the third leading market in 2017, sending over 28 thousand visitors to the island destination.
STB's Manager in Dubai, Ahmed Fathallah said: "We are hopeful and anticipating to surpass last year's visitor arrivals to Seychelles in 2018 by raising awareness of the destination through our participation in different travel and trade events in the GCC region. The good turnout recorded at this year's ATM has already prompted us to start preparing for the next year."
The STB Chief Executive, Sherin Francis, gave several media interviews to share the latest news about the destination during the ATM fair. Mrs. Francis also signed a Memorandum of Understanding for the renewal of a marketing agreement between the Seychelles Tourism Board and Emirates Airline.