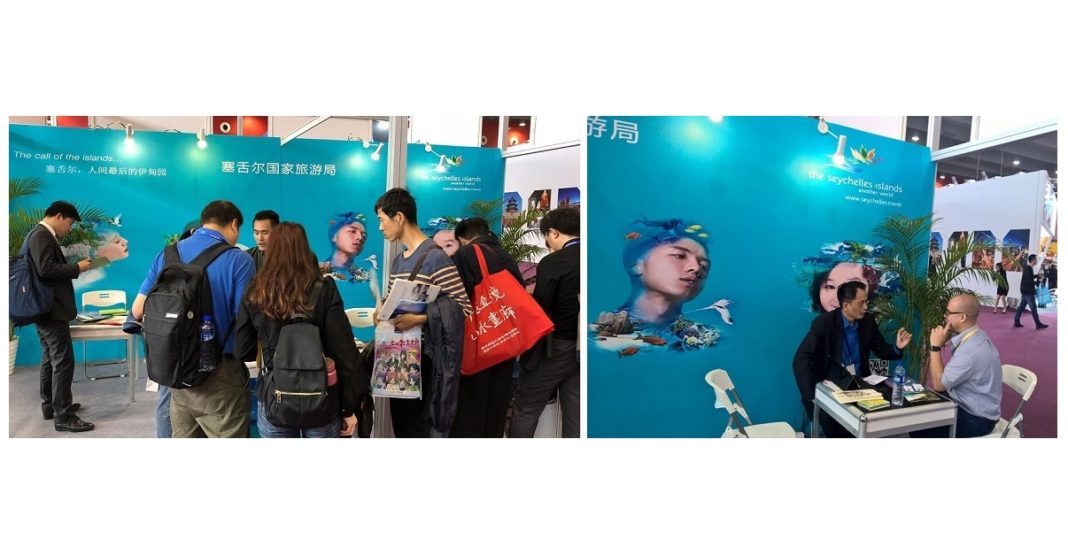 Seychelles showcased at Guangzhou International Travel Fair in Southern China
With the aim of increasing Seychelles' visibility in China, the Seychelles Tourism Board (STB) has taken part in the Guangzhou International Travel Fair (GITF).
The event was held in Guangzhou, the capital of Southern China's Guangdong province, from March 1 to 3, 2018.
STB was represented by its Director for China and Japan Jean-Luc Lai-Lam and Senior Marketing Executives, Mavreen Pouponneau and Sen Yu.
Banners displaying the 'The Call of the Islands' tagline were used to entice visitors to discover the beauty of the exotic Seychelles islands.
Participating in the Guangzhou International Travel Fair, dubbed the window of the tourism industry in Asia, also provided STB with the opportunity to develop relationship with trade partners from Southern China.
"GITF is the largest Trade & Consumer fair in Southern China and it is important that Seychelles remains visible, as the competition intensifies," said Mr. Lai-Lam.
A thriving commercial and outbound tourism center; Guangzhou is China's third largest and most populous city.
The Guangzhou International Travel Fair sees the attendance of both domestic and foreign exhibitors, who use the event as a medium to introduce and promote their innovations, therefore making it an ideal platform to showcase the destination.
China is currently the Seychelles' third leading tourism market, having sent 3,690 visitors to the island nation up to March 4, 2018.