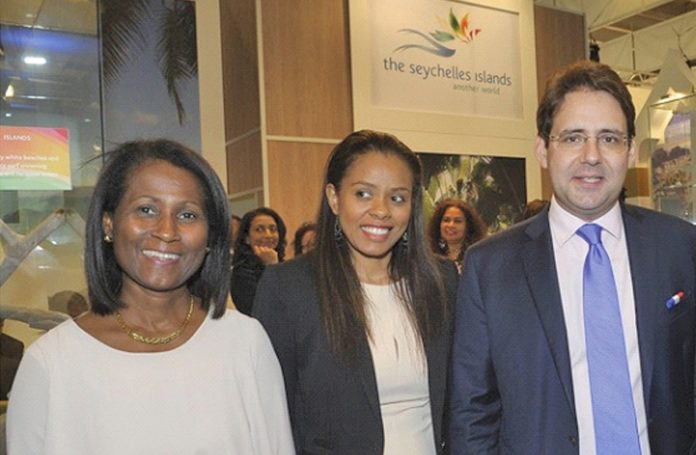 Seychelles delegation to attend IFTM Top Resa Trade fair in Paris France
The Minister of Tourism, Civil Aviation, Ports & Marine Mr. Didier Dogley and the Seychelles Tourism Board (STB) Chief Executive Mrs. Sherin Francis, will both shortly be heading to France to attend the IFTM Top Resa International Trade Tourism Exhibition.
They will be joined by a strong 12-member delegation consisting of hotels and Destination Marketing Companies (DMC) and government official to represent Seychelles at the IFTM Top Resa in Paris from the 25th – 28th September 2018 at the Porte de Versailles in Paris.
Minister Dogley will be attending his first international trade fair since he joined his current office in April this year. He will be heading the delegation alongside Mrs. Sherin Francis. STB Regional Director Europe, Mrs. Bernadette Willemin, STB Marketing Executive for France & Benelux – Ms. Jennifer Dupuy and Ms. Myra Fanchette and Marketing Executive Ms. Gretel Banane from STB head office will also be in attendance.
The delegation will also comprise of the few partnering hotels and DMC who will be part of selling the destination and products to the visitors attending the IFTM TOP RESA Trade Fair.
Ms. Janet Rampal will be representing Seven South, Mr. Guillaume Albert will represent Creole Travel Services and Ms. Stephanie Marie will be representing Masons Travel. On the accommodation side Mr. Leonard Alvis and Mr. Paul Lebon will be attending on behalf of Coral Strand Hotel, while Mr. Mike Tan Yan and Mrs. Caroline Aguirre will represent Savoy Resort & Spa, Ms. Wendy Tan and Mrs. Erica Tirant will represent Berjaya Hotels Seychelles.
This year IFTM Top Resa will be held over 4 days only and Seychelles will have its own destination stand covering a space of 60sqm.
Staged annually in Paris, at Porte de Versailles, IFTM Top Resa is the leading travel event for the travel industry – a must attend business to business event providing a diverse range of destinations and industry sectors to France and international travel professionals. The show provides a unique opportunity for the whole global travel trade to meet, network, negotiate and conduct business.
Senior travel industry professionals, Government Ministers, press and media visit IFTM Top Resa each year in September to network, negotiate and discover latest trends and industry opinions.
France has always been one of the major sources and leading market in terms of tourism arrivals to the Seychelles. There has been a gradual increase in figures to our shores over the years and the market is actually indicating an 8% increase compared to the same period last year.