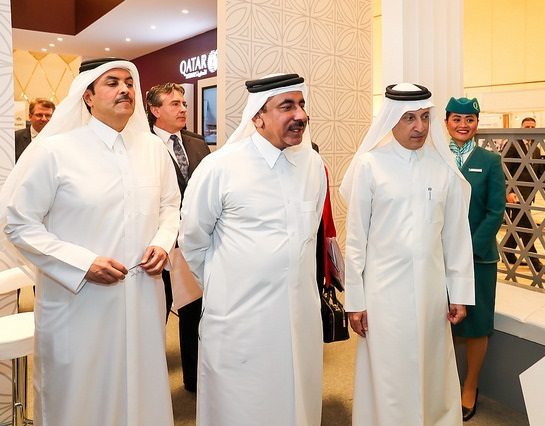 Qatar Airways hosts 31st Annual IATA Ground Handling Conference in Doha
Qatar Airways is pleased to announce that it is the host of the 31st annual IATA Ground Handling Conference, taking place from 23–25 April in Doha.
The conference, the first of its kind to take place in the Middle East, was held under the patronage of and attended by Qatar's Minister of Transport and Communications, His Excellency Mr. Jassim bin Saif Al Sulaiti, and drew more than 700 international delegates and guests from more than a dozen nations globally.
H.E. Mr. Al Sulaiti said: "We are tremendously proud to be hosting the 31st Annual IATA Ground Handling Conference, the first time this gathering is taking place in the Middle East. It is significant that Doha has been chosen as the inaugural host in the Middle East. The fact that so many delegates have chosen to attend this year's conference is a demonstration of confidence in both Qatar Airways and the State of Qatar. We look forward to a successful gathering, and welcome all in attendance to the State of Qatar."
A video highlighting Qatar Airways' resilience amidst the illegal blockade against the State of Qatar was shown, as well as an additional video highlighting the airline's many significant achievements during the past twenty years.
At a packed press conference, Qatar Airways Group Chief Executive, His Excellency Mr. Akbar Al Baker announced that its ground handling subsidiary, Qatar Aviation Services (QAS) will begin international expansion in 2018. Expanding QAS's operations internationally will enhance Qatar Airways' rapid growth pans, as well as provide other airlines and airports access to QAS's capabilities and the profit and performance improvements that it deliver to its customers.
H.E. Mr. Al Baker said: "The decision to launch QAS internationally is a logical business decision. Our Ground Services division contracts with ground handlers across our extensive global network of more than 150 global destinations measuring their key performance indicators, and QAS is without doubt a global leader in this area."
"It is significant that our plans for international expansion were announced at the IGHC, since we have a long-term relationship with IATA. The QAS management team holds key positions on the IATA technical working groups, proposing and implementing developments that improve standards across the aviation industry. By being the best in a high-tech, high-traffic, and high-growth environment, we provide innovative solutions for our customers that they don't have access to through other ground handling agents."
Launched in 2000 as a local ground handling agent (GHA) at Doha International Airport, QAS's ability to stay ahead of the airline's and the airport's growth needs and maintain the quality of service delivery has been a driving factor in its success. Today QAS is the sole ground handling agent at Hamad International Airport (HIA), managing all ground handling requirements for approximately 225,000 flights per year with 99.5 per cent on-time performance for all international passenger, cargo and executive jet traffic.
Qatar Aviation Services (QAS) is an award-winning, premier ground handling organisation headquartered at Hamad International Airport (HIA). Since its establishment in 2000, QAS has developed a reputation as a premium provider of world-class ground services.
QAS is certified in IATA Safety Audit for Ground Operations (ISAGO), ISO 9001, RA3 (Regulated Agent) and is a member of the IATA Ground Handling Partnership, proactively participating in various IATA technical groups such as IATA Ground Operations Manual, Load Control & Messaging, Ground Service Equipment & Environment and Airside Safety Group.
Qatar Airways operates a modern fleet of more than 200 aircraft to a network of more than 150 key business and leisure destinations across Europe, the Middle East, Africa, Asia Pacific, North America and South America.
The airline plans a host of exciting new destination launches this year, including London Gatwick and Cardiff, United Kingdom; Lisbon, Portugal; Tallinn, Estonia; Valletta, Malta; Langkawi, Malaysia; Da Nang, Vietnam; Bodrum and Antalya, Turkey; Mykonos, Greece and Málaga, Spain.
The award-winning airline has received a number of recent accolades, including 'Airline of the Year' by the prestigious 2017 Skytrax World Airline Awards, held at the Paris Air Show. This is the fourth time that Qatar Airways has been given this global recognition as the world's best airline. In addition to being voted Best Airline by travellers from around the world, Qatar's national carrier also won a raft of other major awards at the ceremony, including 'Best Airline in the Middle East,' 'World's Best Business Class' and 'World's Best First Class Airline Lounge.'