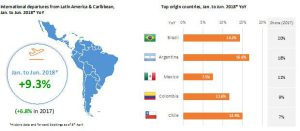 Outbound travel from South America leading with Argentina
Outbound air travel from Latin America is taking off, with Argentina leading the way. Current flight bookings for international departures from Latin America and the Caribbean in the first half of 2018 are currently 9.3% ahead of where they were at the equivalent time last year, according to latest figures from ForwardKeys which predicts future travel patterns by analyzing 17 million booking transactions a day.
Argentina alone shows a 16.6% boost in bookings as of April 8th. It's followed by Brazil showing a 14.2% jump.
The overall growth in Latin American departures builds on a 6.8% increase in 2017.
The latest results from ForwardKeys will be presented in detail at the World Travel and Tourism Council's global summit in Buenos Aires, April 18 – 19.
But the strengthening of the US dollar is tempering Argentinians' enthusiasm for travel when confronted with the diminishing buying-power of their currency.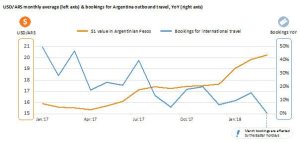 A breakdown of destinations shows that travellers from Argentina are mainly going elsewhere in Latin America – a 17.1% hike year-on-year. Brazilians are travelling more long-haul, particularly to the US and Canada due to improved connectivity and an Electronic Travel Authorisation programme.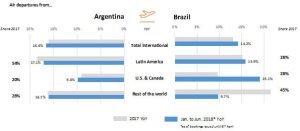 For the next three months, Colombia, Brazil and Chile are among the favoured destinations for Latin American major markets (Argentina, Brazil, Mexico, Colombia and Chile). Bookings to Russia for June's football World Cup are brisk – Mexico ahead 373.5%. Other countries also show a dramatic increase – for example, Argentina to Russia is ahead 303% on last year. However, to put these numbers in context, just 1 – 2% of forward bookings for the next three months are to Russia.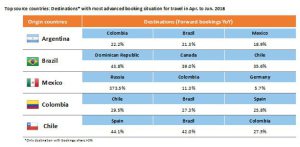 Latin America & Caribbean Inbound
Looking at inbound travel, regional growth, 1.9% ahead, is weakened by the Caribbean (-7.1%, 29% share), because some destinations are still recovering from the devastating effects of hurricanes Irma, Harvey and Maria, like Puerto Rico and the US Virgin Islands. But South American countries show an excellent performance in this period, 12% ahead.
Brazil's strong rating (inbound bookings for the first half of 2018 are 16.5% ahead) is explained by improved connectivity with the US and the recent e-visa program for visitors from Australia (since November 2017), US, Canada and Japan (since January 2018). The e-visa program significantly simplifies the visa application process, reducing the request time and the fees (in the case of the U.S., from $160 to $40).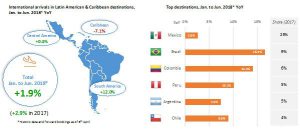 ForwardKeys CEO, Olivier Jager, said: "The trend in flight bookings both to and from Latin America is incredibly healthy. There is something of a virtuous circle right now. Many airlines are increasing capacity and as that capacity is being filled, airlines are encouraged to further increase the number of seats they provide."