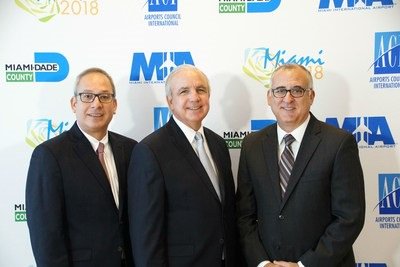 Miami International Airport hosts sold-out 2018 ACI-LAC annual event
Miami-Dade County became the center of the global aviation industry this week when Miami International Airport served as host airport for the 2018 Airports Council International – Latin America & Caribbean (ACI-LAC) Annual Assembly and Conference, as well as for pre-conference meetings by the ACI World Governing Board. The three-day conference, held in downtown Miami's J.W. Marriot Marquis Hotel from November 12-14, drew more than 400 airport executives and industry stakeholders from around the world.
"While Miami-Dade County has become a leading global destination for banking, technology, art and entertainment, tourism and trade continues to be the backbone of our economy," said Miami-Dade County Mayor Carlos A. Gimenez. "With more flights to Latin America and the Caribbean than any other U.S. destination, there is no other world region more closely tied to our local economy, which is why we gladly welcomed the 2018 ACI-LAC Conference to our community this week."
The 2018 edition of the conference featured a diverse schedule of presentations addressing the state of the industry and best practices for topics such as airport infrastructure and capital investment, passenger experiences, leveraging technology, and air cargo. Top industry executives such as ACI Director General Angela Gittens and Federal Aviation Administration Deputy Associate Administrator Winsome Lenfert were among the keynote speakers.
"As the busiest gateway airport of the Americas, serving 79 percent of all passengers between the U.S. and the LAC region, MIA was proud to host the 2018 ACI-LAC Conference," said Lester Sola, Miami-Dade Aviation Department Director and CEO. "In a year when MIA celebrates its 90th anniversary, it was fitting that we would serve as the host airport this year as well. I think the lessons learned and connections made during this year's conference will go a long way toward strengthening air travel across our region."
ACI is the only global trade representative of the world's airports, and the ACI-LAC Annual Conference is widely regarded as the most important aviation industry event in the Western Hemisphere. ACI-LAC is the only professional worldwide association of airport operators, representing 60 airport operators and over 270 airports in 32 countries of the Latin America and Caribbean region. The organization's airports handle 95 percent of commercial air traffic in the area and represent over 584 million airport passengers, 5.1 tons of freight and more than 8.7 million aircraft movements each year.
"We are very happy to have landed for the first time ever in Miami for this unique airport conference," said ACI-LAC Director General Javier Martinez. "The highly-anticipated conference, which brings together top senior airport and industry executives to discuss and review the region's key issues, was sold out three weeks in advance."
Miami International Airport offers more flights to Latin America and the Caribbean than any other U.S. airport, is America's third-busiest airport for international passengers, boasts a lineup of more than 100 air carriers and is the top U.S. airport for international freight. MIA, along with its general aviation airports, is also the leading economic engine for Miami-Dade County and the state of Florida, generating business revenue of $30.9 billion annually and welcoming nearly 60 percent of all international visitors to Florida. MIA's vision is to grow from a recognized hemispheric hub to a global airport of choice that offers customers a world-class experience and an expanded route network with direct passenger and cargo access to all world regions. MIA is committed to sustainable practices.