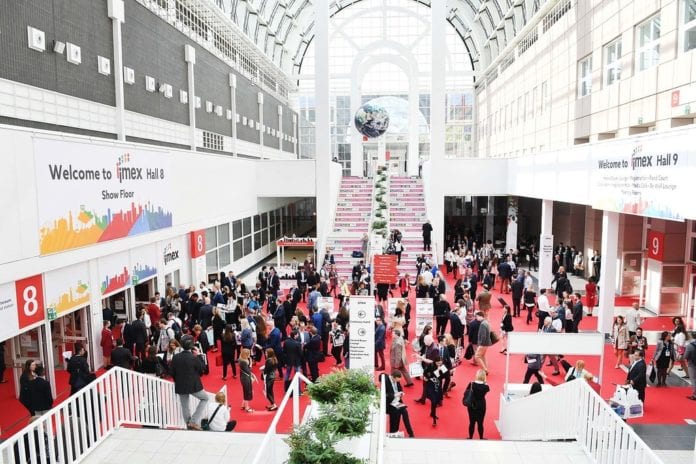 IMEX 2019 sets sights on diversity, inclusion, collaboration, 'new work' and more
"This show is amazing – going from country to country, hotel to hotel, all in the same space. I'm looking forward to being surprised!" Bianca La Placa from the World Environmental Education Congress Network sums up the energy and excitement of buyers at IMEX in Frankfurt earlier this year.
The worldwide exhibition for incentive travel, meetings and events returns to Frankfurt from 21 – 23 May 2019, bringing together destinations, venues, tech providers and more. Among the many exhibitors already confirmed are New Zealand, Senses of Cuba, Barcelona Convention Bureau, Visit Brussels, Kempinski Hotels, Melia Hotels and Latvia. During the three days of the trade show, planners can meet with more than 3,500 suppliers from every sector of the global meetings and events industry.
IMEX's preshow education day, EduMonday, takes place on 20 May and includes She Means Business – a conference celebrating the role of women in the meetings industry. EduMonday begins at lunchtime with a keynote speaker after which the program offers learning opportunities in both German and English.
Collaboration, co-creation and the circular economy
The 2019 edition of IMEX in Frankfurt will also feature many of the content ideas and feedback received this year. Reflecting current trends within the events industry and the world at large, topics such as diversity and inclusion, collaboration and co-creation plus the circular economy will all be explored.
"We know that the German market has its own business drivers and priorities so we'll be addressing these in our programming. 'New Work' is just one example. It describes the challenge many companies face in adapting established business models to suit today's new world of work and the expectations of a younger, more purpose-driven workforce. This is a big topic given Germany's mature economy," says Carina Bauer, IMEX Group CEO.
"We'll also be integrating specialist education streams into the show, with workshops designed for association executives, corporate event planners and live event agency planners taking place on given days so that they can be blended more easily with exhibitor appointments. Experiential continues to be a huge trend so we're looking to develop our Live Zone offering too." continues Bauer.
Successful trial establishes demand for Agency Directors Forum
Also returning for 2019, having been successfully trialed this year, is the Agency Directors Forum. This allows a select group of senior planners from small to mid-size meetings and live events agencies to engage in high level peer to peer discussion.
As always, IMEX will also be offering dedicated professional development and networking programs for association meetings executives plus corporate meetings and events professionals.
IMEX in Frankfurt 2019 will take place at Messe Frankfurt from 21 -23 May 2019, with EduMonday, its pre-show day of learning and insights, on Monday 20 May. Registration is free and opens at the beginning of January 2019.