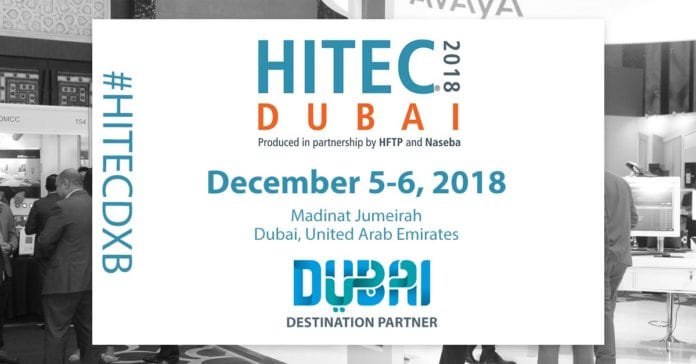 Dubai Tourism to inaugurate 'HITEC Dubai 2018'
HITEC Dubai 2018, the Middle East's largest hospitality technology exhibition and conference, will be inaugurated by Dubai Tourism on 5th December 2018. The annual business-to-business (B2B) exhibition will give Middle East buyers, currently worth over USD 75 billion, access to the world's leading technology solution providers and experts in the hospitality sector.
Commenting on the critical role technology is playing in driving tourism, Issam Kazim, CEO, Corporation for Tourism and Commerce Marketing (DCTCM)stated, "Dubai is a global hub of innovation with the ongoing development of technology at the centre of our strategy. Disruptive technologies are creating new opportunities for our industry while reengineering the marketplace, and Dubai is at the forefront of capitalising on these emerging technologies to optimise travellers' journey. We will continue our focus on harnessing the power of data to redefine the customer journey whilst strengthening developments of advanced technology solutions as we invest in entrepreneurship and environmental sustainability that sets a new benchmark for global travel. As such, we are delighted to support HITEC Dubai as the tourism sector continues to lead the way when it comes to evolving technology."
Dubai Tourism is the destination partner for HITEC Dubai 2018 that will feature regional and international case studies, thought provoking panel discussions and technology demonstrations from 70+ solution and service providers. Co-produced by Hospitality Financial and Technology Professionals (HFTP®) and Naseba, the two-day trade show will be held on 5th and 6th December 2018 at the Madinat Jumeirah Dubai.
Frank Wolfe CAE, CEO of HFTP, said: "It's an honour to receive DTCM's endorsement to HITEC Dubai for the second consecutive year and have their CEO Mr. Issam Kazim lead the show's official opening ceremony. DTCM's support reemphasizes the government's commitment to transform the hospitality industry through proactive adoption of innovative and intuitive technology, and further position the UAE as a regional driver of innovation."
Few industries have felt the impact of enabling technology like hospitality. HITEC Dubai's Advisory Council Chairperson Laurent A. Voivenel, Senior Vice President, Operations and Development for the Middle East, Africa and India for Swiss-Belhotel International, said, "Technology holds the key to a more advanced, sustainable and smart future which is revolutionising the hospitality sector like every other industry. Tech-savvy tourists are demanding more from hotels and therefore it is essential to give them the enhanced experiences they crave. Internet of Things, Cloud Technology, Virtual Reality, Artificial Intelligence, Robotics, Blockchain, etc are all paving the way for the future of technology in the hospitality sector and HITEC Dubai will give be a great platform to see the latest developments transforming our industry."