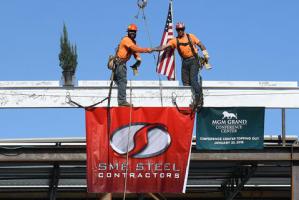 MGM Grand even Grander with expanded Conference Center
When completed, the MGM Grand Conference Center will total more than 850,000 square feet including a 22,000-square-foot expansion of Stay Well Meetings, the industry's first-ever wellness meetings experience.
The Conference Center reached an important milestone today – the topping out of its 250,000-square-foot expansion. More than 100 construction workers along with MGM Resorts and MGM Grand executives were on-site to sign the last of nearly 2,700 individual steel beams before it was lifted into place by a 270-foot-tall, 125-ton crane.
The $130 million project, opening the end of 2018, allows MGM Grand to grow with the needs of its clients and drive new and expanded business to Las Vegas.
EXPANSION FAST FACTS
• Groundbreaking: June 20, 2017
• Topping out: January 30, 2018
• Opening: December 2018
• Cost: $130 million
• Expansion: 250,000 square feet
• Total upon completion: 850,000 square feet
• Owner & General Contractor: MGM Resorts International
• Construction Manager: THOR Construction
• Architect of Record: YWS Design & Architecture
• Interior Design: MGM Resorts Design / YWS Design & Architecture
• New space seamlessly connects to the existing conference center on all three levels
• Expansion includes:
o 5,500-square-foot outdoor courtyard available for private events
o 49,000-square-foot ballroom
o 32,000-square-foot ballroom
o three junior ballrooms
o 11 breakout rooms
• Stay Well Meetings is expanding its footprint by 22,000 square feet, encompassing the conference center's entire second floor
CONSTRUCTION FAST FACTS
• 2,680 steel beams; 571 columns & hangers; 185-foot-widespan trussed ballroom
• 2520 tons of steel
• 577 workers
• 9650 cu. yards of concrete
MGM Resorts' Commitment to Meetings Citywide
MGM Grand's new space comes on the heels of expansions at sister properties Mandalay Bay and ARIA. Mandalay Bay completed a 350,000-square-foot expansion totaling over two million square feet while ARIA is currently adding 200,000 square feet to create more than 500,000 square feet at the resort (opening February 15, 2018). Upon completion of these projects, MGM Resorts International will offer a total of 4 million square feet of leading meeting and convention space within a two-mile stretch on the Las Vegas Strip.
The widespread development of new meeting space in Las Vegas is a solid indicator of the city's position as the number one trade show destination in the United States for 23 consecutive years, as determined by Trade Show News Network.