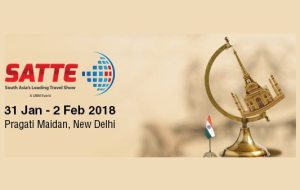 South Asia Travel and Tourism Exchange kicks off in Delhi
The 25th edition of the South Asia Travel and Tourism Exchange (SATTE) got off to a colorful and vibrant start in New Delhi, India, on January 31, with over 1,000 exhibitors and participation by over 50 countries and 28 Indian states, who showcased what they have to offer by way of attractions and products. The 3-day event will provide strong conference components, including technology and the MICE sector.
A day-long tour of the various halls where the national and international destinations are exhibiting conveyed a definite feeling that tourism is healthy. There is less participation from some areas, but new destinations are seriously working to promote tourism to their areas.
Hotels and travel agents were interacting and exchanging cards as day one move forward, and final results of their efforts will emerge later.
Hotel Brahma Horizon, located in the temple town of Pushkar, promoted its customer delight concept, not just customer satisfaction. The Sayaji chain emphasized new Raipur and Vadhodra properties, while Madame Tussauds revealed its new Delhi presence. The Grand Imperial in Agra showcased its heritage angle, and the Heritage Transport Museum, near Delhi in Haryana, is participating with an impressive and large Lord Ganesh presence. Udaan revealed its visa issue facilities for the northeast, and Jammu and Kashmir are also well represented, as are the Central Asian countries.
The SATTE awards also attracted much attention at the event.