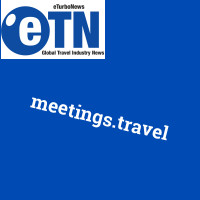 meetings.travel launch at IMEX Las Vegas next week
It's global, it's about Conventions, Meetings, Venues and qualified destinations and airlines. It's all about the important MICE industry, and it's different.
Launching at the important IMEX America Trade show in Las Vegas next week, 
meetings.travel 
is an original, new platform for buyers and sellers of meetings, incentives, conferences, and events. (MICE).
IMEX is the North America's leading MICE exhibition, bringing together both buyers and sellers.  
Meetings.travel
 is geared to showcasing the latest products and trends within the MICE market.  
Meetings.travel
  powered by the eTurboNews (eTN) profiles new and emerging destinations, hotels, resorts and MICE products to highly targeted global MICE organizers.
The eTurbo News Group has partnered with IMEX since its inception and is excited to be exhibiting again at IMEX, specifically this year to showcase the newly launched portal and publication, 
meetings.travel
Jurgen Steinmetz, Publisher of eTN commented, "We will be in Las Vegas to show our continued support, not only to IMEX, but also to support the City of Las Vegas, which is a leading MICE market destination in its own right. Las Vegas strong is not just a hashtag. We are also very committed to the dot travel registry, it's all about our global travel and tourism industry, we support it fully. Our industry has been waiting for a global platform that will bring together in one place the very latest MICE news, product developments, and brands on a global format.
Also attending IMEX 2017 is Dmytro Makarov, Director of International Relations for eTN.  "Meetings.travel is a brand new, very original platform with massive reach to qualified MICE decision-makers.  It is top-tier, quality digital content dedicated to showcasing the very best of the best within the global MICE market." noted Makarov.
To learn more about how your brand can participate and be featured at 
meetings.travel
, contact eTN .
To learn more about the latest trends and products within the MICE market please visit eTN at Booth Number: 
G2465 
during IMEX in Las Vegas.