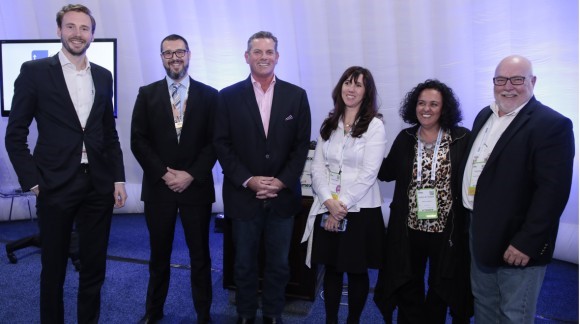 Insight into innovation: Planners discover latest developments at IMEX America
There's much talk about the latest hot meeting trends, but how can planners apply these trends practically in planning their meetings to create an engaging experience? The answer, according to experts featured in an innovation tour at IMEX America, is teamwork.
The innovation tour – How tech, innovation and trends can be implemented into your general sessions – introduced event strategists to the experts behind the latest innovations, showing how they can work together to support their event and boost engagement. Planners met exhibitors offering various technological support tools including multi hub meetings and event apps. Kerry Plowman from QuickMobile explained how event apps are the "Swiss army knife" for events – they can be created to contain all the relevant tools and features to meet the event's exact objectives. He continues: "Content can be added to the app throughout the year, boosting ongoing engagement and community and, ultimately, creating a legacy for the show."
Marguerite Michels from Double M Events, who attended the tour, explains: "A tour such as this is crucial for my business. I need to be aware of the latest developments and innovations so I can advise my clients on which new technology would work best for them. This tour – and the show as a whole – has really helped my fact-finding mission."
Planners had a glimpse of some of the innovative technology set to make waves in the industry at the #IMEXpitch. Event technology start-ups had the opportunity to showcase their products to an audience of event professionals at the show.
The five finalists delivered fast paced presentations about their innovations to a live audience, with companies Mixtroz, Sciensio, AtlasRTX, Bizly and Snöball competing to win free exhibition space. Sciensio was crowned the winner by an expert judging panel for their product Concierge EventBot – a chatbot specifically developed for events.
Founding partner Bob Caldwell explains "The future of event space is Artificial Intelligence – it's a powerful tool to save event planners time and money as well as boosting delegate engagement. With messaging apps now the most widely and frequently used apps on a smartphone, event planners can tap into these existing channels using a chatbot to provide attendees with event information and resources quickly, conveying the brand and voice of the event."