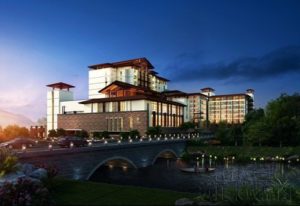 Hot Spring Healthy Valley Hilton Huizhou Longmen Resort opens in China
Hilton will add idyllic hot spring retreat to Chinese resort portfolio in the near future — the opening of Hilton Huizhou Longmen Resort. Set amidst the natural splendor of one of south China's most picturesque destinations, Hilton Huizhou Longmen Resort is now welcoming travelers to experience the ultimate in relaxation and hospitality in the region. The resort boasts modern interiors, a variety of fine dining options and is the first Hilton property in China to feature natural hot springs that guests can enjoy at their leisure.
"Rich woodland scenery and unique geothermal resources make Huizhou one of the most attractive travel destinations in southern China," said Sean Wooden, vice president, brand management, Asia Pacific, Hilton. " With Hilton's world-class hospitality and upscale offerings, travelers can relax in total comfort, fully immersing themselves in the natural beauty surrounding the resort."
The resort, located in Yonghan Town of Longmen County, is secluded from the hustle and bustle of city life while still providing easy access to travelers from across the globe. The resort is a scenic, 80-minute drive from Guangzhou or Baiyun International Airport, and is an easy trip from the Pearl River Delta cities such as Shenzhen, Dongguan and Foshan.
"The opening of Hilton Huizhou Longmen Resort represents an important expansion of Hilton's resort footprint in southern China," said Qian Jin, area president, Greater China and Mongolia, Hilton. " The introduction of this upscale resort represents our commitment to developing properties that appeal to both business and leisure travelers in the country's most impressive and sought-after destinations."
Hilton Huizhou Longmen Resort's 366 guest rooms and suites are designed to complement and enhance the floor-to-ceiling views of the crystalline rivers and lush hillsides that surround the property.
The resort features an abundance of versatile function space, separated into 11 rooms, including the impressive Grand Ballroom, a modern and upscale venue equipped with the latest conferencing technology.