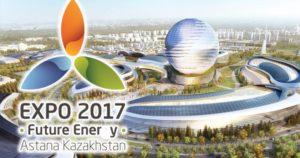 EXPO 2017 has new discoveries in store for the coming year
This year became a significant one for Kazakhstan due to a landmark event in Astana. A large-scale International Specialized Exhibition EXPO 2017 on the topic of Future Energy was held in the city. Between June 10 and September 10, Astana became one of the most spectacular cultural venues. At the exhibition, 115 countries and 22 international organizations presented their developments and technologies in the field of alternative energy.
Astana EXPO 2017 is still receiving visitors despite the fact that the international specialized exhibition has already ended. On November 11, as part of a post-exhibition program, the tourist zone on the EXPO 2017 site resumed its work. This zone includes the Future Energy Museum in the Nur Alem pavilion, the Art Centre, the Congress Centre, themed pavilions and the Energy Best Practice Area (eBPa).
The other day Astana's main New Year's tree was lit up on the EXPO territory. The official tree lighting ceremony was attended by about three thousand people, residents and guests of Astana.
Besides, the largest "ice town" in Astana has been opened on the EXPO site. In the "town" dedicated to the EXPO theme, ice models of the Crystal Palace have been installed that was originally built for the first EXPO exhibition held in London in 1851 and of the Eiffel Tower which was the entrance arch to the Paris exhibition held in 1889.
In the coming year, the following facilities will be opened on the basis of the EXPO 2017 infrastructure: the International Technology Park of IT startups, the International Centre for the Development of Green Technologies and Investment Projects under the auspices of the United Nations, the Astana International Financial Centre (AIFC).
In his letter to President of Kazakhstan Nursultan Nazarbayev, Vicente Loscertales, Secretary General of the Bureau International des Expositions (BIE), confirmed that the International Specialized Exhibition Astana EXPO 2017 was a success. Mr Loscertales stressed that it was the best specialized exhibition in the BIE history.
The international exhibition gave an impetus to the work aimed at attracting direct foreign investment in the republic's economy. A new modern terminal was opened at the Astana airport, a new railway station was built and new hotels and hostels were opened.
Moreover, after the end of the exhibition, Kazakhstan began to work on launching big projects involving innovative technologies presented during EXPO.