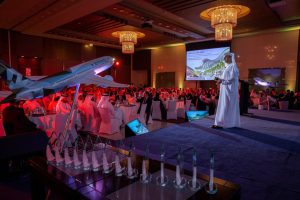 Etihad Airways Abu Dhabi hosts annual procurement and supply symposium
Etihad Aviation Group's Procurement and Supply Management team has held its annual "Collaborating for Sustainability "Symposium.
Attended by more than 500 representatives from local and international companies, the symposium aims to enhance further Etihad's partnership and collaboration with its vendors.
The event included presentations from Etihad executives as well as a workshop about the group's new procurement policies and procedures. Forthcoming business opportunities were also provided to delegates.
Adil Al-Mulla, Vice President Group Procurement and Supply Management, Etihad Aviation Group, said: "Our supplier development strategy continue to support the global Etihad business and build strong business relationships in the UAE, around the MENA region, and across the globe."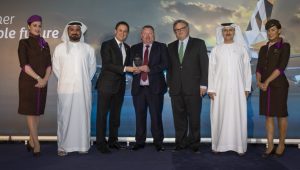 (left to right) Mana Al Mulla, Chief Group Support Services Officer, EAG; Peter Baumgartner, Chief Executive Officer, Etihad Airways; Eamonn Maguire, Regional Sales Manager, Mallaghan Engineering Limited; Mark Powers, Chief Financial Officer, EAG; Adil Al Mulla, Vice President Group Procurement and Supply Management, EAG – at the "Collaborating for Sustainability "Symposium awards.
Mr Al Mulla also gave an overview of the group's procurement policy and practices and reliance on transparency, integrity, accountability and strong governance.
He outlined the procurement and supply chain opportunities in areas such as corporate services, fuel, airline and inflight services, Etihad Airport Services and sustainability.
At the end of the symposium, the annual Etihad awards were presented to partners who had performed exceptionally in terms of providing reliable service, remarkable and innovative products and supporting the group's operations.