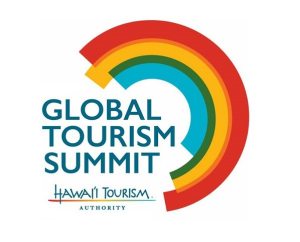 Hawaii welcomes 2018 Global Tourism Summit
Building on the success of the 2017 Global Tourism Summit with a record number of attendees, the Summit will continue to be a gathering of thought leaders from around the world who represent the global marketplace. This year, our three day Summit will be:
A COLLABORATION & NETWORKING ON INDUSTRY-LEADING VISION, BEST PRACTICES, AND GLOBAL CONNECTION PLUS:
• Networking with 2,500 global innovators and tourism industry stakeholders
• Panel discussions on various topics such as Safety & Security featuring speakers from Las Vegas Convention & Visitors Authority and the Senior Executive Advisor to the City of Rikuzentakata, Japan
• Over 10 concurrent sessions with topics including Hawaiian culture, global trends, and sustainability
• Keynote Speakers to include Tourism New Zealand's Stephen England-Hall, Google's Susie Richards Vowinkel, and more
• Opportunities to showcase products and services in the Networking Lounge
• Aloha Reception featuring top chefs from Hawaii
The 2018 Global Tourism Summit serves as a platform for members of the local and international travel and tourism industries to collaborate on current industry trends, strategic alliances, and emerging opportunities. Attendees leave the islands feeling inspired, informed, and interconnected across continents all as key stakeholders in a rapidly evolving global travel marketplace.