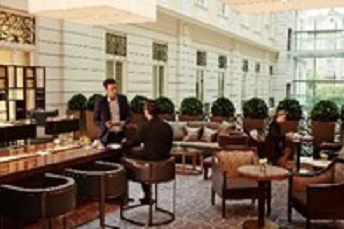 Corinthia Hotel Budapest recognized for excellent MICE facilities and service
Corinthia Hotel Budapest has been recognized for its excellent facilities and service for the meetings, incentive and conference industries by receiving an award in the annual International Hospitality Awards.
Held last weekend in Kiev, and up against hotels in 21 countries, Corinthia Hotel Budapest was named Winner of Best MICE Hotel 2017.
"We are delighted to win this award," said hotel General Manager Jean Pierre Mifsud. "It is recognition of not just the hotel's extensive facilities but our staff who make each event a huge success for our clients."
The hotel exceeded the criteria for this category, namely for guestrooms and infrastructure for guests with disabilities, an event hall for 1,000 or more, at least ten conference/meeting rooms, state-of-the-art equipment, secretarial and translation services, simultaneous interpretation services, restaurants, pool, spa, gym and treatment rooms, express dry cleaning, pillow menu, 24-hour security, multi-lingual website and guest loyalty program.
With some 31 rooms, the Corinthia Hotel Budapest has the largest conference facilities of any of Hungary's leading hotels and the jewel in its crown is the impressive three-story-high Grand Ballroom, with high ceilings, stunning crown molding and bathed in breathtaking Baroque style. It can seat 500 theater style, 300 in a classroom configuration or for a grand banquet or 400 for cocktails. The Grand Ballroom is linked by a glass bridge to the Valletta Conference Centre, a showpiece of 21st century architecture which can be partitioned to create up to 12 syndicate rooms or opened into expansive event or display space. Most have mobile walls. This is all complemented by the Royal Lounge (pictured above left), a unique office space exclusively dedicated to event organizers.
The MICE award follows hot on the heels of a clutch of awards in December: three from the 11th World Luxury Hotel Awards (Luxury Historical Hotel 2017 in Eastern Europe; Luxury Hotel 2017 in Hungary; and Luxury Spa Hotel 2017 in Hungary) and Hotel of the Year 2018 for Hungary in the annual Travel and Hospitality Awards.