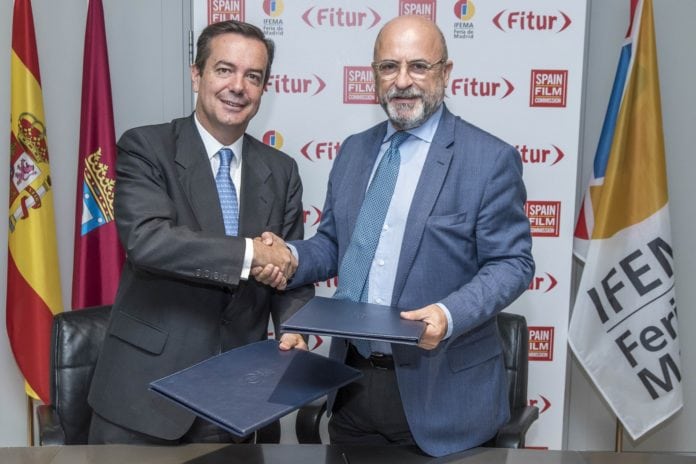 Connecting tourism and film industries at next FITUR 2019
The public's increasing interest in visiting filming locations for movies – and especially hit TV series – offers a major opportunity for the film industry to play a role in publicising these destinations and promoting visits to these areas. This is a growing phenomenon seen all around the world, representing a potent option for diversifying tourism and combatting seasonality. Against this background, FITUR offers an important platform for connecting the tourism and film industries, which has resulted in the creation of the new FITUR CINE/SCREEN TOURISM section, in partnership with Spain Film Commission (SFC), to be premiered at FITUR 2019, from 23 to 27 January at Feria de Madrid.
The agreement between these entities was signed by IFEMA's General Manager, Eduardo López-Puertas, and the president of Spain Film Commission, Carlos Rosado, during the morning of 25 July.
According to IFEMA's General Manager, 'The presentation of this new dedicated area represents a step forward in our ongoing commitment to integrating vertical sectors into FITUR, which represent employment, business and growth for the tourist industry. The partnership with SFC – a first step in boosting various initiatives to make a substantial entity of this segment – will undoubtedly help to strengthen this area, in terms of the professional standpoints of both industries, as well as the content and activities that will raise its visibility and inspire tourism operators to package these destinations. Alongside all this is the opportunity to take advantage of the significant impact of the international publicity that FITUR has to offer.'
Carlos Rosado, the President of Spain Film Commission, meanwhile, underlined the fact that 'Filming boosts the economy and creates employment. But it is also a factor in terms of the reputation and image of Spain, which we must capitalise on by promoting film tourism. FITUR is the best showcase for publicising our cinematic locations, and for Spain Film Commission, it offers the opportunity to develop an active strategy to ensure that film shoots benefit both the audiovisual medium and tourism in Spain. The countries that we are competing with invest effort and resources to gain tourist-generated profits from the filming in their countries. Experience has shown that there is a net increase in tourism in places where international hit TV series and movies have been filmed. Cinema gives rise to tourism.'
The new FITUR CINE/SCREEN TOURISM section will have its own specific space, which will include an exhibition area for the various participating agents, a B2B area and an area set aside for delivering a programme of seminars, organised in partnership with CFS.
According to a study published in April 2018 by TCI Research, 80 million travellers choose a destination based on TV series and movie locations. This study reveals that the number of people travelling to a destination after seeing it in a movie or series has doubled over the last 5 years.
eTN is a media partner for FITUR.
yahoo