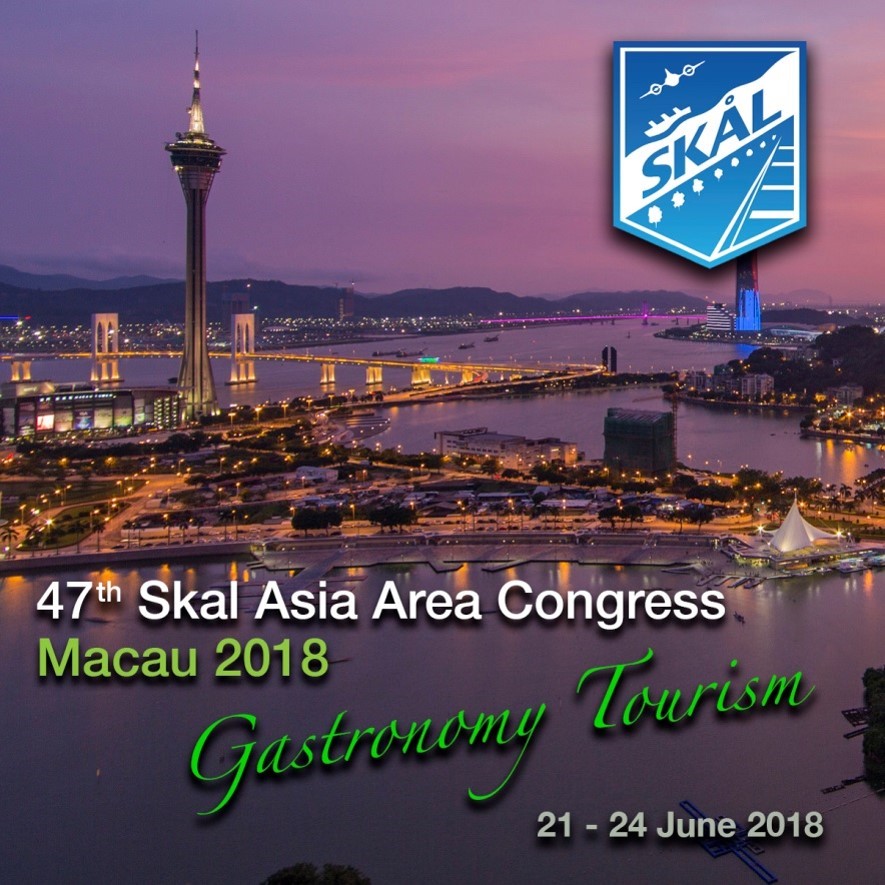 47th Skål Asia Area Congress: Macau 2018
The SKAL International Macau Club is honored to host the 47th Skål Asia Area Congress for the third time in the city which has been recognized by the UNESCO World Heritage Centre as the "Historic Centre of Macau," with a collective of over 20 locations since 2005.
The Congress will have the presence of President of Skal International, Susanna Sari, as well as the President of Skal Asia Area, Robert Sohn.
The congress main highlights will be the signing of an MOU between PATA and SKAL International by PATA CEO, Dr. Mario Hardy, and SKAL International CEO, Daniela Otero; a series of interventions from Mario Hardy, on "Setting the stage for Sustainable Tourism Development, MGTO Director Helena de Senna Fernandes on "Macau, World Center of Tourism and Leisure" and Irene Lau on "MICE in Macau."
As well as a panel on Tourism and Gastronomy, moderated by Dr. Cheng Wai Tong, Deputy Director o the Macau Government Tourist Office (MGTO) with Chattan Kunjara Na Ayudhya, Deputy Governor for Policy and Planning at Tourism Authority of Thailand, and Fang Li, responsible for UNESCO Creative City of Gastronomy international cooperation of Shunde and Deputy Director of China-Europe International Hospitality School & Hotel Management Department of Shunde Polytechnic University as speakers.
The venue chosen to host the Congress is Fisherman's Wharf, with the largest and most flexible convention space in Macau Peninsula, where Legend Palace and Harbourview, our official hotels, are part of the complex and located just at walking distance from Macau's ferry terminal.
With the theme of the Congress being Gastronomy Tourism, only the best menus and restaurants where chosen. Among these, Vic's Restaurant, where the welcoming cocktail will be held with traditional Portuguese food, Grand Coloane Hotel and MGM COTAI, the newest 5-star integrated resort in Macau.
To register, please check our website at: https://www.skalmacau.org/macau-skal-congress/registration/
About SKAL
Skål is a professional organization of tourism leaders around the world, promoting global tourism and friendship. It is the only international group uniting all branches of the travel and tourism industry. Its members, the industry's managers and executives, meet at local, national, regional and international levels to discuss and pursue topics of common interest.
The first Club was founded in 1932 in Paris by travel managers, following an educational tour of Scandinavia.
Skål International today has approximately 17,000 members in 400 Clubs throughout 80 nations. Most activities occur at local level, moving up through National Committees, under the umbrella of Skål International, headquartered at the General Secretariat in Torremolinos, Spain
Media Inquiries: Chinese-speaking inquiries: Louisa Fung, Congress Executive, [email protected] , +853 2872 3510; English- or Portuguese-speaking inquiries: Sara Martins, Congress Executive, [email protected] , +853 2872 3510