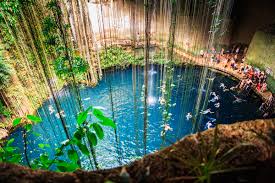 Yucatan Tourism Minister Michelle Fridman Hirsch: We won !
Why is Yucatan different and safer than most Mexican Tourism Hot Spots? Michelle Fridman Hirsch, the minister of tourism for the Mexican State of Yucatan sat down with eTN at the World Travel Market and gave some inside on the Secret of Success for Yucatan as a travel and tourism destination. Fridman Hirsch loves Yucatan and everything good happening in regards to travel and tourism for her State gets her excited.
Just this week the minister tweeted: We won Yucatan! She meant the title of the best restaurant in Mexico by the name of K'uu'k in Merida. But there is a lot more why Yucatan is different and safet than most Mexican Tourism Hot Spots.
The regional cuisine of Mexico's Yucatan Peninsula, known as Yucatecan cuisine, is a unique melange of influences from Europe, Mexico, and the Caribbean. The influence of the ancient Maya, whose legacy can be felt in many aspects of life in the Yucatan, is especially prevalent in the food of the region. Some of the dishes are unique to the Yucatan and difficult to find outside of the peninsula, while others are eaten throughout Mexico.
Pavo (turkey), pollo (chicken) and pork are the main proteins, along with fish closer to the coasts, while seasonings like achiote — a sweet, slightly peppery red sauce made from the seed of the tropical annatto plant— and sour orange (brought to Mexico by the Spanish) impart a distinctive flavor profile to many Yucatecan dishes.
Hirsch explained: "November 16th is the date on which we commemorate the designation of Mexican gastronomy as a World Heritage Site according to UNESCO. The Yucatecan is, without a doubt, one of the most diverse, authentic and representative of the history of Mexico."
The Hon Fridman Hirsch sat down with eTN during the recent World Travel Market in London. Mexico's current safety situation has made headlines around the world.
According to minister Hirsch and current reports, despite all the grim news about Mexico's drug-related violence, the Yucatán Peninsula remains relatively safe for those not engaged in illegal activities. Most of the killings you hear about happening between rival drug gangs, so tourists are rarely caught up in the disputes – especially in the Yucatán, which keeps a safe distance from the turf wars occurring elsewhere in Mexico. Cancún, Playa del Carmen, and Tulum have all seen a gradual rise in drug violence, but major US cities such as New York and Chicago have higher murder rates than the entire state of Yucatán.
Crime against tourists in Yucatan is rare; however, minimizing risks will help ensure you have a problem-free vacation. Pickpocketing and bag-snatching are relatively minor risks in the Yucatán, but it's a good idea to stay alert on buses and in crowded bus terminals and airports. Mugging is less common than purse-snatching but more serious: resistance may be met with violence (do not resist). Usually, these robbers will not harm you: they just want your money, fast.
Yucatan's tourism fame started in the mids 1980, when a group of American archaeologists examined satellite images showing the Yucatan peninsula in Mexico, they did not know how to interpret an image that completely unraveled them: an almost perfect ring, some 200 km width.
The cenotes, that reservoir of blue spring water, are a shown on tourist brochures of Yucatan and are repeated in this arid landscape opening its way through the vast plains of Yucatan, a state of dry and low forest in the extreme east of Mexico
Archaeologists discovered these deep holes that surround the capital of Yucatan, Mérida, and the port cities of Sisal and Progreso, almost casually, while trying to understand what had happened to the Mayan civilization that had once ruled the peninsula.
With its natural underground swimming pools, picturesque colonial towns, historical archeological sites, and world class cuisine, Yucatán has become one of Mexico's top tourist destinations. It is also set to become a leading destination for businesses travelers when the Yucatán International Convention Center (ICC), Powered by Samsung, opens in March 2018 in the capital city of Mérida. As construction of this state-of-the-art facility is scheduled to be completed by year-end, development of a tourist corridor continues, with more than 15 new hotels planned, along with a retail plaza and cultural center to meet an anticipated 10 percent increase in demand for meeting services.
The ICC is groundbreaking for Yucatán and the country as it marks Samsung's first business alliance in Latin America. The collaboration will not only provide technology to the Center, but also promote the ICC, Yucatán and Mexico to the global market. The ICC is also the only building in Mexico constructed with Leadership in Energy and Environmental Design (LEED-Gold) certification. This sustainable venue is already gaining attention, with 13 events confirmed so far for 2018, bringing an economic impact of more than $10.9 million.
An intriguing design element of the Yucatán International Convention Center is its connectivity to the environment. The structure was built with significant consideration given to its surrounding environment. The existing trees and even a cenote have been incorporated into the design to allow visitors to enjoy nature in the comfort of this eco-friendly building.
The ICC offers a variety of indoor and outdoor spaces that can accommodate groups of all sizes. The ground level main hall is one of its larger spaces, with the capacity to seat 6,000 people. For smaller groups, the room can be divided into six singular rooms fitting 1,000 attendees each. More intimate events can take advantage of the hall's ability to be divided further into 12 rooms with the capacity to accommodate 500 people in each room. Regardless of size, all rooms are equipped with the same wide spectrum of high-tech services offered in the large exhibition hall.
Two halls occupy the upper level, offering event space for 2,000 attendees each and equipped with general services for any size event. The upper level also features two expansive outdoor terraces perfect for social gatherings. Guests can enjoy the area's natural beauty from either of the open-air spaces, which can accommodate up to 700 people each.
The new ICC will drive convention tourism and hotel occupancy, far exceeding the 12,000 hotel rooms currently available in Mérida and Yucatán. To meet this need, more than 15 new hotels, including international brands, are in the works to open nearby, bringing an estimated economic impact of more than $55.9 million to the region in the next two years.
Inspired by the environmentally-friendly convention center, Mérida's Hotel Wayam by Xixim will open its doors in time for the ICC's grand opening in March 2018. The five-story hotel is designed for today's traveler, combining luxury with sustainability. It has the distinction of being the first hotel in the city to be LEED certified. The original Art Deco house that is currently on site will serve as the new hotel's lobby, and guests will have 29 luxurious rooms and 11 modern apartments to choose from to meet their needs. To ensure comfort and privacy, guest rooms are made with a thick acoustic and thermal insulation, eliminating any noise that may come with increased traffic to this area. Guests can relax at the third floor panoramic swimming pool, which beautifully showcases the property's lush trees and landscaping. Other amenities include a restaurant, event hall and terrace, and more.
The state of Yucatán is located in southeastern Mexico, along the Gulf of Mexico in the north section of the Yucatán Peninsula. The region boasts both a coastline of pristine beaches and interior sections rich with natural preserves. Yucatán is home to several designated UNESCO World Heritage sites including the well-preserved Mayan towns of Chichén Itzá and Uxmal, as well as two "Magical Towns" – the former Spaniards regional capital of Valladolid and the colorful Colonial-era town of Izamal.
The state's capital, Mérida features a vibrant culinary scene, modern museums, and historical attractions, while its main port city of Progreso is a popular cruise ship destination famous for its pier that extends an impressive four miles into the Gulf of Mexico. Yucatán has become an increasingly popular tourism destination for its diverse attractions that include natural underwater swimming pools, world-famous archeological and historical locations, unique luxury hacienda accommodations, and diverse natural wildlife.
Travel to Yucatán is easily accessible via Manuel Crescencio Rejón International Airport (MID), with several non-stop daily flights from the United States and Canada. The airport is conveniently located approximately 10 miles from downtown Mérida, a 30-minute drive.
According to Minister Hirsch flying into neighboring Cancun is antoher option and a quick road trip to Yucatan.