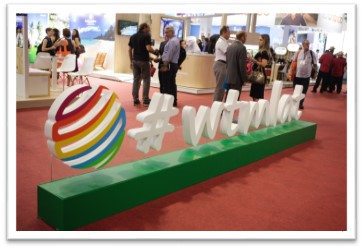 WTM Latin America 2018 Attracts Almost 12,000 visitors
WTM Latin America 2018, the leading B2B travel event in Latin America, experiences record participation number of almost 12,000 – an increase of 7% over the previous year.
The event – which took place between 3-5 April in São Paulo – saw a record number of 11,963 senior industry professionals in attendance.
During the show, approximately 12,000 business meetings were held during the five sessions of Speed Networking.
Furthermore, the Business Travel Tourism was a huge success with around eight brand activations, including chats, seminars and conferences.
"Over the three-day show, we saw busy corridors, busy sessions at the five Speed Networking meetings, well-known speakers and a lot of networking. We're also really pleased with the number of business meetings that took place over at the event generating more business deals," said Luciane Leite, Director at WTM Latin America.
With 42 travel operators companies represented at WTM Latin America – 26 of them located in the Tour Operators Area and 16 occupying stands at the Blue and White Pavilions – the operators celebrated the presence of the travel agents and some of them have already shown interest in returning for the 2019 edition, such as R11,Grou Turismo, Travel Ace, Intertouring, HotelDO Brasil, TT Operadora and ITA.
Countries such as Turkey, Ecuador, Peru and Indonesia have also shown interest in returning next year.
This year, WTM Latin America brought together six new exhibitors from the hospitality sector – Royal Palm Plaza, Wyndham Hotels, Master Hotel, Maksoud Hotel,Hotel Alfa Moscow and the Brazilian group Hotéis Luzeiros.
In addition, the event welcomed top tourist cities in Brazil, Ilhabela, Paraty and Porto de Galinhas.
The 7th edition will be held from 2-4 April 2019, at the Expo Center Norte, in São Paulo.