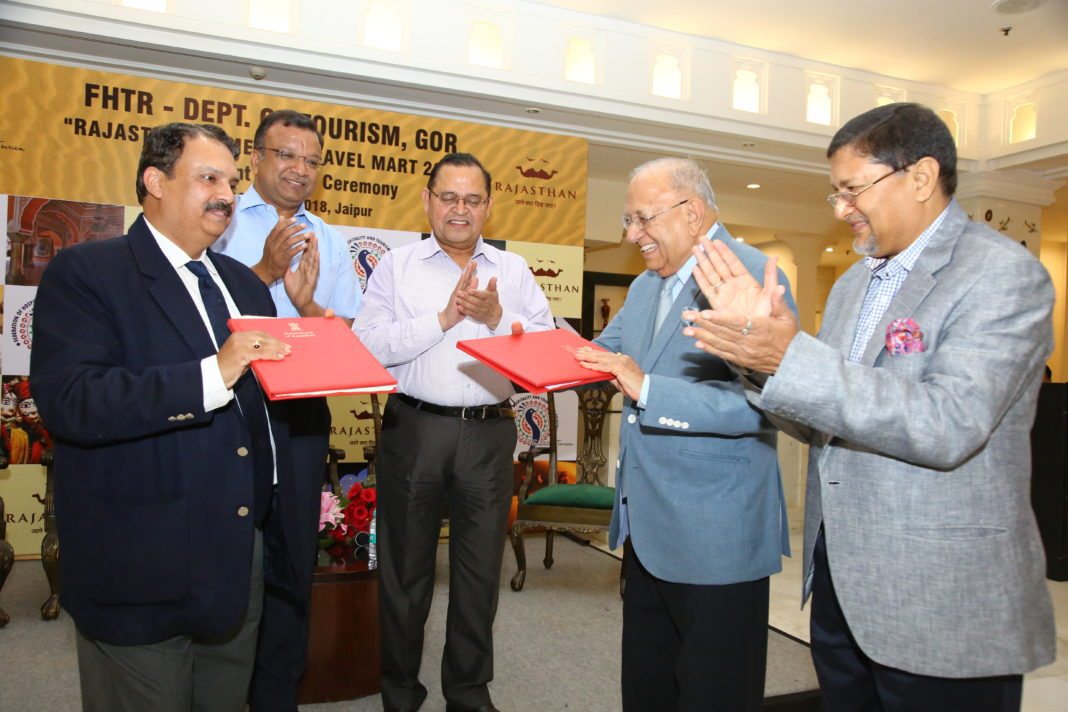 First of its kind travel mart in Rajasthan
The Department of Tourism of the Government of Rajasthan in India signed a Memorandum of Understanding (MOU) with the Federation of Hospitality and Tourism of Rajasthan (FHTR) for organizing the Rajasthan Domestic Travel Mart 2018. The event will be held from July 20-22 at the B.M. Birla Auditorium in Jaipur. The Department of Tourism will be the host State partner for the event.
The MOU was signed between the Additional Director Tourism, Mr. Sanjay Pande and the President, FHTR, Mr. Bhim Singh today at Hotel ITC Rajputana, Sheraton, Jaipur.
The Chief Guest on the occasion Chief Secretary, Rajasthan, Shri Nihal Chand Goel said that the primary objective of Rajasthan Domestic Travel Mart is to exclusively focus on the domestic tourists within Rajasthan from various parts of India and establish Rajasthan as one of the leading domestic tourist destinations in the Country. He said: "The vision 2020 initiated by the CM had an objective of 5 crore tourist footfall in the state by the year 2020. But we have attained close to 5 crore tourists in the year 2017 itself and with new initiatives like this travel mart, we'd be able to achieve the set goal and probably outperform our own predicted numbers."
The Guest of Honor, Additional Chief Secretary, Tourism, Shri. Subodh Agarwal, said that this mart is first of its kind in Rajasthan and second in India. The 15% of the total State GDP is through tourism. Tourism has won 45 awards over the past 4 years and 65% occupancy in hotels was recorded in the year 2017.
The President, FHTR, Mr. Bhim Singh, said the soul objective is to increase domestic tourism in Rajasthan and that numerous promotional shows will be organized across the State of Rajasthan.
The event is also supported by HRAR, IHHA, RATO and ADTOI. The master of ceremony was Secretary, General, FHTR, Mr. Gyan Prakash.