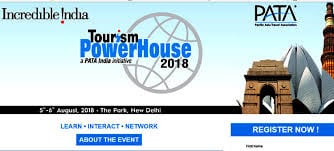 What PATA announced at the Tourism PowerHouse 2018 in India?
The PATA Adventure Travel and Responsible Tourism Conference and Mart 2019 will be held in Rishikesh, in the state of Uttarakhand , India, from Feb 13 to 15.
This was announced in Delhi on August 5 by PATA CEO Mario Hardy at the opening of the Tourism PowerHouse 2018, where he spoke on the subject of Impact of the Visitor Economy, raising several interesting and topical issues before delegates from India and abroad.
Mario also listed some of the other 20 events in which PATA is involved during the year.
John Koldowski, long time PATA associate spoke on the trends and opportunities, giving figures and facts, pointing out that Asia will be in greater focus in years to come than Europe and the US.
Rashmi Verma, Secretary, Ministry of Tourism listed some of the achievements, saying that marketing is being focussed at the niche and regional level so that the needs of the generating markets are met. She said the air capacity expansion through UDAN was a big help in tourism. More arrivals had meant more budget and hence spending more on marketing and infrastructure.
Interestingly, she asked the States to undertake studies on carrying capacities and focus on core areas for marketing, rather than promote everything.
PATA India secretary J Taneja and ED Runeep Sangha lauded the initiatives of the Ministry of Tourism. Amit Thakran, from CAPA, called for greater focus on the China market.
Tomorrow, the Tourism Power House, a PATA India Initiative will take place. It will cover digital marketing, disruptive tourism, luxury tourism trends