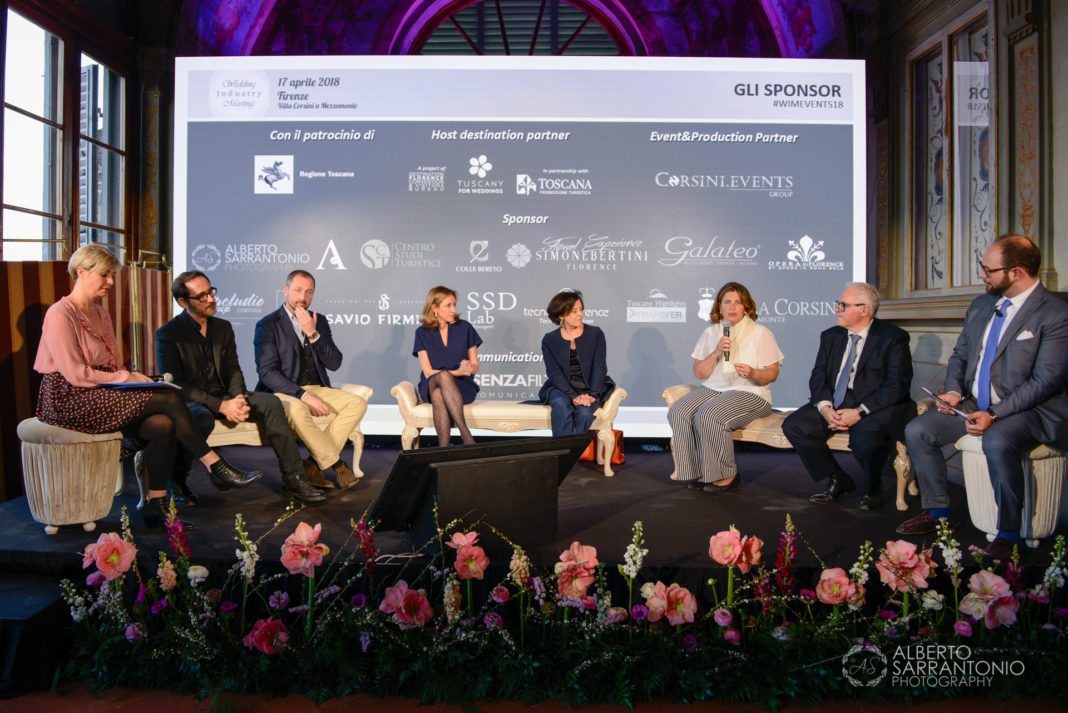 Wedding professionals attend first edition of B2B event in Tuscany
A Wedding Industry Meeting took place in Florence on April 17, 2018 at Villa Corsini a Mezzomonte, the first Tuscan B2B event dedicated to the wedding industry.
Two years after the Destination Wedding Planners Congress 2016, organized by QnA International (held on April 13-16, 2016 in Florence, Italy), the WIM event is the new format in the enclosed and unique group of the Tuscan wedding market.
During the first part of the event, 47 national wedding planner agencies met around 50 local suppliers representing hotels, villas, tour operators, and wedding photographers. Later, the participants attended the conference with a panel discussion between top local suppliers, most of them who have worked together during the DWP Congress 2016.
The event was organized by Tommaso Corsini, named as one of the "The 100 Best Wedding Planners in the World: 2018" by Nicholas Purcell Studio, CEO and Founder of Corsini.Events Group and supported by the Host Destination Partner, Tuscany for Weddings, a business unit of the Destination Florence Convention and Visitors Bureau.
Also, Brides, Elle Sposi, and Sposi Magazine, 3 of the main top wedding magazines, took part in the WIM event along with 2 VIP wedding planners: Wayne Gurnick (Moments by Wayne) and Bruce Russell (By Bruce Russell).
Because of a sudden inconvenience, Wayne Gurnick was not able to attend the event, and he sent a video message: "I am honored to be the ambassador for Tuscany for Weddings in the USA market. Through my travels to the Tuscan and Florence area, I have personally experienced the exceptional level and quality of products and services that are available on a local level. But more importantly, I was so impressed by the kind, caring and devoted professionals that work so hard and are devoted to providing an experience that is unmatched."
As an institution, the Tuscany region, Toscana Promozione Turistica, and the Municipality of Florence were present at WIM 2018. Many partners and DFCVB members have been involved in the event, including Alberto Sarrantonio, Photographer; Alma Project; Centro Studi Turistici di Firenze; Colle Bereto; Floral Designer – Simone Bertini; Galateo Ricevimenti; Opera in Florence; Preludio Group; Studio Fotografico Righi; Savio Firmino; SSD Lab; Tecnoconference; Tuscany Highlights; Villa Corsini a Mezzomonte; and Senza Filtro Comunicazione.