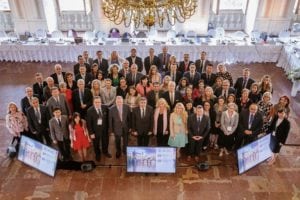 UNWTO: Innovation and digitalization top of European tourism agenda
The World Tourism Organization (UNWTO) stressed the importance of tourism and technology providing opportunities for innovation and creating the jobs of the future, in its 63rd European Commission meeting held in Prague, Czech Republic (11-13 June 2018).
As UNWTO and its European Member States gathered to set the agenda for the region, Secretary-General Zurab Pololikashvili described the Organisations´s intention to make innovation part of the solution to the challenge of marrying continued growth with a more sustainable and responsible tourism sector.
In a strategic discussion on innovation and the digital transformation, Mr. Pololikashvili made clear his vision to create an ecosystem of government policies, funds and strategic projects that nurture disruptive ideas and entrepreneurship, for which he enlisted the help of Member States and private sector members in the region.
"Together we can set a vision that considers tourism as a policy priority, a knowledge creator and innovator, and a sector of maximum value for all", said Mr. Pololikashvili.
This year's World Tourism Day, on September 27, will focus on tourism and the digital transformation. Celebrations will take place in Budapest, Hungary and worldwide.
Also at the meeting, UNWTO outlined plans for improving skills, education and specialized tourism training under the newly-launched UNWTO.Academy, and reaffirmed its engagement with Europe to face safety and sustainability challenges related to managing large tourist numbers.
The World Tourism Organization (UNWTO) is the United Nations agency responsible for the promotion of responsible, sustainable and universally accessible tourism. It is the leading international organization in the field of tourism, which promotes tourism as a driver of economic growth, inclusive development and environmental sustainability and offers leadership and support to the sector in advancing knowledge and tourism policies worldwide. It serves as a global forum for tourism policy issues and a practical source of tourism knowledge.
It encourages the implementation of the Global Code of Ethics for Tourism[1] to maximize the contribution of tourism to socio-economic development, while minimizing its possible negative impacts, and is committed to promoting tourism as an instrument in achieving the United Nations Sustainable Development Goals (SDGs), geared towards eliminating poverty and fostering sustainable development and peace worldwide.
Related
yahoo