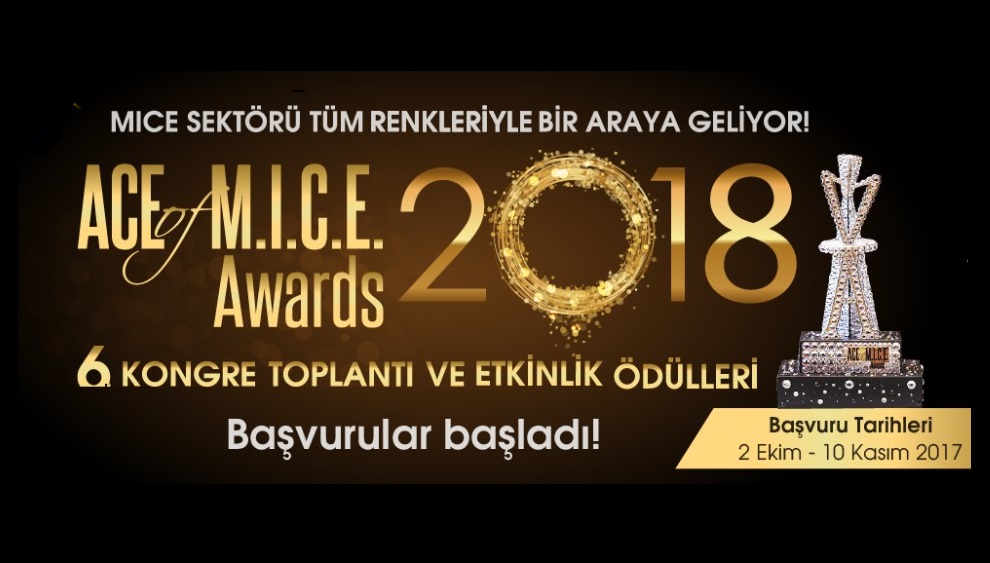 Turkey's most extensive B2B event
Turkey's most extensive B2B event
The world's third largest MICE (Meeting, Incentive, Congress, Event) exhibition ACE of M.I.C.E. Exhibition by Turkish Airlines will take place on February 21-23, 2018 for the fifth time at Istanbul Congress Center – ICC on a 5.000 sqm net stand area with the motto of previous year: "MICE Industry Convenes With All of Its Colors!". ACE of M.I.C.E. Exhibition by Turkish Airlines will gather MICE professionals and global MICE industry for the fifth time this year and contributes vastly to Turkish MICE industry. Participants can find everything they need for their organization at AME'18 with its 750 hosted buyers from 40 countries, almost 9,800 B2B appointments, 220 national and international exhibitors, about 100,000 US dollars worth global media coverage value, 160 sponsors & partners, 20 sessions, 35 speakers and 15,000+ national and international visitors.
The exhibition is Turkey's most extensive B2B event which has a perfectly functioning B2B online appointment system. Face-to-face interaction with high-level decision-makers and influencers of the industry will allow participants to connect with new and existing customers under one roof. MICE Industry Professionals, Associations / Societies / Federations and Corporate Companies can be hosted buyers at AME. In addition, the "Business Network Night" on the first day of the exhibition will provide a chance to build new business contacts and enjoy the branded "AMEzing Party" on February 22 after dinner on a Bosphorus boat tour with the peerless Istanbul view.
AME'18 comes along with innovations like TECH ZONE, which will include event technology exhibitors and latest trends both in Turkey and in the world. Brands from USA, UK, Belgium have already taken their places. Speakers' Corner will also be located close to the ZONE. There will be many sessions related to 2018's event technology trends and brand new technological developments such as virtual reality/augmented reality, wearable technology, meaningful use of data, event software and flexible display technologies. While the event and meeting industry are preparing for the year of 2018, participants will have the opportunity to meet the professionals of the global MICE technology industry in the first quarter of the year.
Contributions and benefits of ACE of M.I.C.E. Exhibition by Turkish Airlines
ACE of M.I.C.E. Exhibition by Turkish Airlines is the third largest MICE industry exhibition of the world and it aims to promote Turkish MICE industry and increases the awareness on the industry. While it promotes Turkish MICE industry's strong shareholders to global MICE market, with its hosted buyer program it also makes sure that the industry is sustainable and new events are won for Turkey. The motto of the event is "MICE Industry Convenes With All of Its Colors!" and we gather all professionals of Turkish MICE industry and let them argue on the issues of the industry with panels and seminars. ACE of M.I.C.E. Exhibition Turkish Airlines is organized in order to gather and increase.
ACE of M.I.C.E. Awards 2018 preparations and new categories
The 6th ACE of M.I.C.E. Awards will be organized on April 9, 2018 at Zorlu PSM/Istanbul. This organization aims to guide the sustainable growth of congress, meeting and event operations and to create a will of achieving perfection for sector companies. This is the one and only Oscar-like award ceremony organization of the sector and it has the goal of increasing awareness on Turkey MICE sector globally. ACE of M.I.C.E. Awards has 4 main and 26 sub-categories which are: "Events, Event/Meeting Management Companies, Meeting Support Companies and Project Implementations and Meeting Hotels". The applications will be open on October 2, 2017 – November 10, 2017 and will be on the miceoduller.com website.
ACE of M.I.C.E. Awards 2018 has new categories within after making long conversations at ACE of M.I.C.E Awards Brainstorming Meeting and they are: "Best Event Adaptation, Best Concert, Best Roadshow, Best City Hotel Which Provides Best Meeting Service, Best Meeting Service Beach Hotel, Best Conference Hotel, Best Event Technology Application. We added a new category which we really care about: "Best Social Responsibility Project." With this category, both agencies and corporations will be able to apply. Application fee of the competing projects will be 50 percent discounted and if the project wins, the fee will be given to the current project.
Turkish MICE industry review and what can be done for more
The country and especially tourism and MICE industries here have been through a lot. After this period, Turkey's MICE industry is now getting back together and ready to stand up. Even though it can feel the effects of those times, the industry has high hopes towards 2018. If 2018 will be as positive as the industry thinks, it will be able to increase the capacity of industry and move its ranking even higher. Foreign guests in the ACE of M.I.C.E. Exhibition by Turkish Airlines said they believe in the potential of the country and think of the industry positively. At this point, as an industry, the country needs to stand together and believe that the Turkish MICE and tourism industry will be able to get up sooner than expected.
New projects
M.I.C.E. Magazine is being published regularly for the last 11 years and eventturkiye.com website is continuing its online operations. We have renewed the design and content of both publications this year. eventturkiye.com is prepared by an exclusive and experienced team who are aiming to set up sector's goals higher and to make the agencies describe themselves in the best way they can. Within the website, participants can find; an event calendar, sectorial news, events, world news, interviews, research, columns and all updates on MICE sector. The site is known as the home page of Turkish MICE industry. TMG will bring together the global MICE industry with the micemap.com web portal, which will be The Group's 2018 project which is the global network of the industry. With the digital platform to expand and change the perspective of MICE professionals around the world, everything about the MICE industry will be in the hands of its participants.
In addition, I would like to talk about a new association which relates to Turkish MICE industry and we are very excited about it. TETKİD was established in order to gather event managers of corporate companies and to set the standards and service-buying criteria of Turkish MICE industry, the association has the aim of raising the standards of Turkish MICE industry's general structure. In the long run, TETKİD aims to gather all shareholders of Turkish MICE industry and become a union. The association has the goal of raising the awareness of brands, event companies and suppliers with a global perspective and informing them on the innovations of the world by educating them. Participants will soon start to see the positive effects of TETKİD all around the MICE industry. To stay updated on the association, click here.