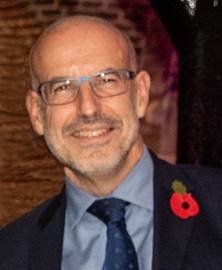 Travel entrepreneur takes the helm at WTM Portfolio
A travel industry businessman with extensive experience at major brands and start-up ventures has been appointed as Portfolio Director at WTM Portfolio.
Claude Blanc has an impressive track record of more than 25 years in top management roles across the travel trade and hospitality industry. He says his mission is to increase the scale of the WTM Portfolio "through innovation and new launches".
Owned by the world's leading exhibition organizer, Reed Exhibitions, WTM Portfolio includes WTM London, Travel Forward, the International Travel & Tourism Awards, WTM Africa, Arabian Travel Market and WTM Latin America.
Mostly recently, Claude was Chief Executive Officer at Paris-based Travel & Co, a tour operating group he founded in 2007.
Before that, he was Digital Travel Director at TUI Group, and has held senior posts with a leading online travel agency in France; travel management company Rosenbluth International; and timeshare exchange company RCI.
He has also worked with successful French travel start-ups such as Karavel-Promovacances and Orchestra.
He said: "I joined WTM as Portfolio Director as I have sold my company and I felt too young to retire. I was looking for a new, exciting challenge, and I found it within Reed Travel Exhibitions.
"I have been working in the travel industry for almost 30 years, mostly in tour operating, but also in corporate travel, retail, hospitality and online travel agencies. Over the past 10 years, I have founded and run my own company, specializing in tailor-made trips around the world.
"Having been a sponsor, an exhibitor and a visitor at many travel trade shows, I bring a client perspective, an international network and a digital culture."
He added: "I would like to make WTM Portfolio the best business, brand and 'brain booster' marketplace for the travel industry."
Since joining the company – based in Richmond, Surrey – he has been getting to know his team and meeting staff across the world. He also hailed the brand's flagship event WTM London 2018 – the event where ideas arrive – as the most successful edition yet.
Taking place on 5-7 November 2018, it attracted 51,409 delegates, including a record 32,642 visitors. WTM London 2018 is hosted around one million meetings, generating around £3 billion in industry deals.
"However, I cannot take credit for that success – the team has simply achieved tremendous work," added Claude.
He is now working closely with Simon Press, Senior Exhibition Director at WTM London, to generate fresh ideas for WTM London 2019, which will be the 40th edition of the event, as well as overseas the 2019 editions for WTM Latin America, WTM Africa and Arabian Travel Market.
Blanc will report to Reed Travel Exhibitions Divisional Director Nick Pilbeam.
"I am delighted to welcome Claude to Reed Travel Exhibitions as Portfolio Director for the WTM Portfolio," Pilbeam said.
"Claude has extensive experience in the travel and tourism industry which will be of great benefit to Reed Travel Exhibitions and the further development of the WTM Portfolio."