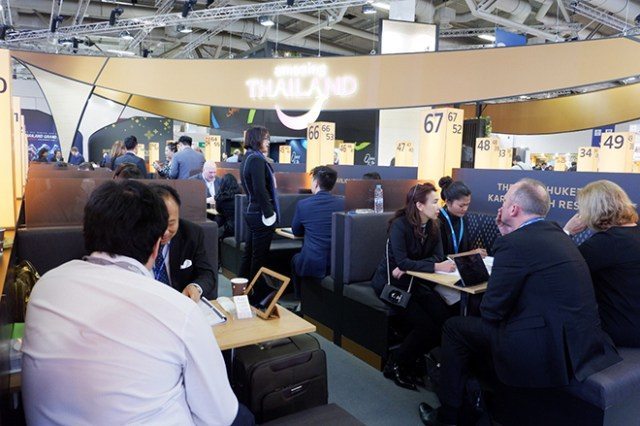 TATs Open to the New Shades features cultural extravaganza of new tourism products at ITB 2018
The Tourism Authority of Thailand (TAT) is showcasing a cultural extravaganza of Amazing Thailand's 'Open to the New Shades' products and services, featuring an exciting and eclectic mix of original offerings at its ITB 2018 Thailand Pavilion stand from 7 to 11 March.
During the five-day ITB 2018 event in Berlin, the world's largest travel trade show, TAT will host Thai local arts and crafts demonstrations plus cultural performances at the pavilion that include, but are not limited to, the following:
*Astrology Meets Tourism: Prospective travelers are invited to input their zodiac birth sign into a computerised system using a touch screen presentation. Based on the individual's astrological sign, the computer selects one of 12 possible astrological tour routings on offer. The matches are based on the suitability of the tour content to each astrological sign; are existing routes that can be promoted, booked and conducted by Thai DMCs, or are routes supported by TAT's promotions or ones that have received past Thailand Tourism Awards.
*Workshops on how to make auspicious flags indigenous to Nan province's Ban Phra Kerd Community based on the Chinese animal zodiac, or 'Shengxiao', locally known in Thai as 'Tung Ka King' and 'Tung Sai Mu'. This time-honoured art, passed down from generation to generation', is why the community was selected as a pilot destination in Thailand's Creative Tourism District programme. Visitors to the ITB Berlin 2018 are invited try their hand at this unique art form and take their masterpieces home with them.
*Thai boxing demonstrations ranging from traditional to 'Mixed Martial Arts' influenced Muay Thai by both male and female boxers. Visitors interested in participating can step into the ring to received basic training or learn self-defence moves.
*Contemporary musical performances, that combine the creative integration of everyday Thai kitchen tools with traditional musical instruments, performed by a group of artists from the Asia's Got Talent stage.
*Demonstrations on how to make 'Pang Puang', or scented Thai powder garlands, indigenous to Bangkok's Ko San Chao riverside community.
In addition, there will be an information counter providing brochures branded under the Amazing Thailand's 'Open to the New Shades' concept along with information on community-based tourism offerings as per the current government policy. Over 50 titles on key and secondary cities, natural attractions and cultural venues are highlighted in the numerous handouts.