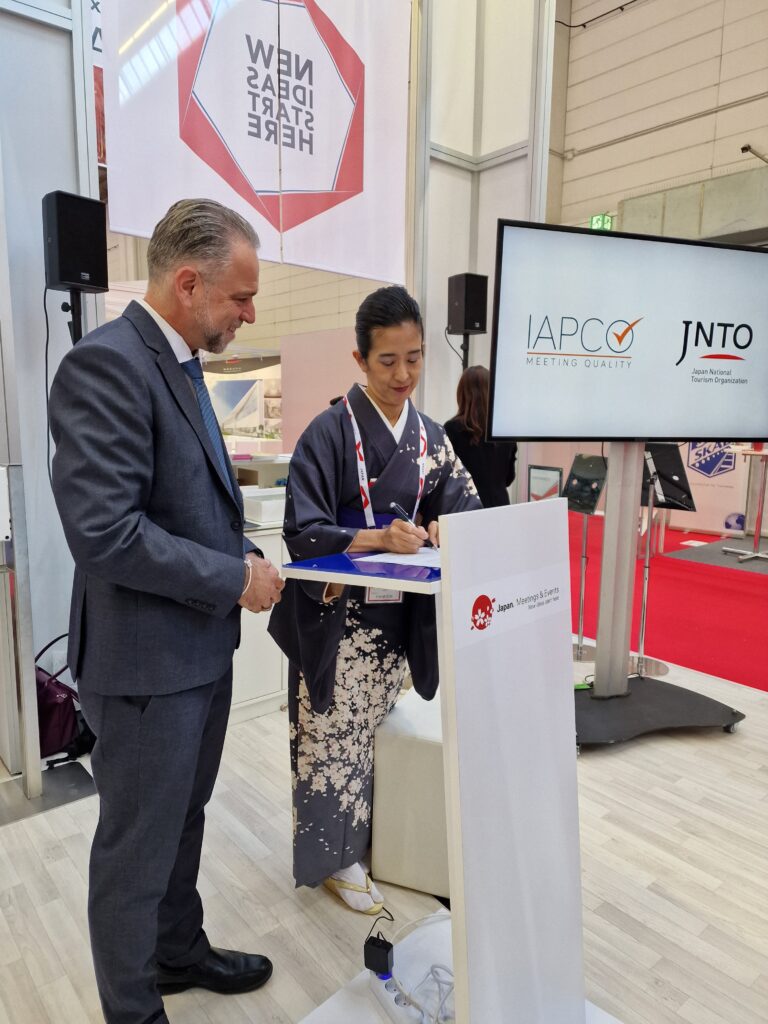 Signing event for destination partnership between JNTO and IAPCO
We are excited to inform you that the signing event for the destination partnership between the Japan National Tourism Organization (JNTO, based in Tokyo, Japan) and the International Association of Professional Congress Organisers (IAPCO, registered in Zurich, Switzerland) took place on Wednesday, 1 June at the Japan booth of IMEX Frankfurt 2022.
On 1 August 2021 JNTO and IAPCO formed a destination partnership. This is Japan's first such partnership, and IAPCO's second partnership within Asia. Japan is the seventh destination to form this partnership agreement with IAPCO, joining Hamburg, Melbourne, Toronto, Dubai, Hong Kong and Rwanda, and more recently Athens.
Comment from Etsuko Kawasaki, Executive Director of JNTO:
"The surveys we carried out last fiscal year for our next three-year marketing strategy highlighted the importance of connecting with core PCOs and strengthening Japan's public relations. JNTO will actively engage with prominent PCOs worldwide through IAPCO's network. We also plan to provide seminars and invitations for IAPCO members to foster understanding of Japan's potential as a destination for international conferences."
Comment from Martin Boyle, CEO of IAPCO:
"IAPCO's Members have offices in 40 countries around the globe and deliver association, corporate and governmental business and professional events in many more. The Asia Pacific region is one of growth potential for our Members' clients as well as IAPCO. Forming such an important destination partnership with JNTO will ensure our communities and stakeholders can form stronger mutually beneficial relationships well into the future."
About IAPCO
The International Association of Professional Congress Organisers – IAPCO, is a global non-for-profit organisation representing today 138 accredited business and professional events organisation companies in 40 countries. All Members have undergone a qualification process to become a Member of IAPCO and must continually demonstrate a high level of service through the IAPCO annual quality assessment audits. The IAPCO mission is to raise the standards of service amongst its members and other sectors of the meetings industry by means of continuing education, interaction with other professionals and research.