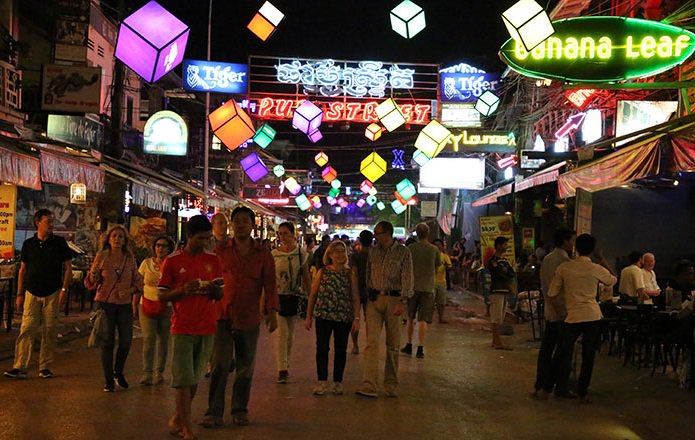 Siem Reap welcomes first tourist Biz Fair
More than 70 Cambodian and international companies have joined the opening day of the Biz Fair, which kicked off in Siem Reap.
The fair – which is taking place this year for the first time – will also be held later this week in Phnom Penh.
It seeks to create more sales channel for players in the tourism industry and increase the number of tourists in Cambodia during the low season, organisers said.
Thourn Sinan, chairman of the Cambodia Chapter of the Pacific Asia Travel Association, said the event in Siem Reap, which will continue today, attracted 40 international firms from 9 countries: Bangladesh, Indonesia, the Philippines, Thailand, Vietnam, Myanmar, China, Singapore, and India.
"The main purpose of these events is to promote business cooperation and networking between Cambodian firms and companies in Asean and other parts of Asia Pacific so that they can grow together and achieve sustainable growth," Mr Sinan said.
"The events also give foreign companies the opportunity to explore Cambodia and partner up with local players that can help them boost sales," he added.
"This year, the fair will be held two times, one in Phnom Penh and one in Siem Reap. But, for next year, we are planning to have four fairs – two in each city," Mr Sinan added.
He said that if there is enough support from local service providers, the fairs will be expanded to other areas in the country, beginning with Battambang, the coast and the eastern provinces.
Pak Sokhom, Secretary of State at the Ministry of Tourism, said the Biz Fair's first day was a rotund success, and said he hopes the event is held on a regular basis.
"I would like to thank the Pacific Asia Travel Association for hosting Siem Reap's first Biz Fair, and I would like to ask them to hold the event every year as it is an excellent platform to promote Cambodia's tourism offer," Mr Sokhom said.
Nearly 5.6 million international tourists visited the Kingdom last year, 11.8 percent more than in 2016. 4.3 million visitors came from Asia Pacific.
In 2017, the tourism sector accounted for 13 percent of the national GDP, generating $3.4 billion in revenue, and creating 620,000 direct jobs, according to the Ministry of Tourism.
The Biz Fair is taking place in Siem Reap on September 3-4 and in Phnom Penh on September 5-6.