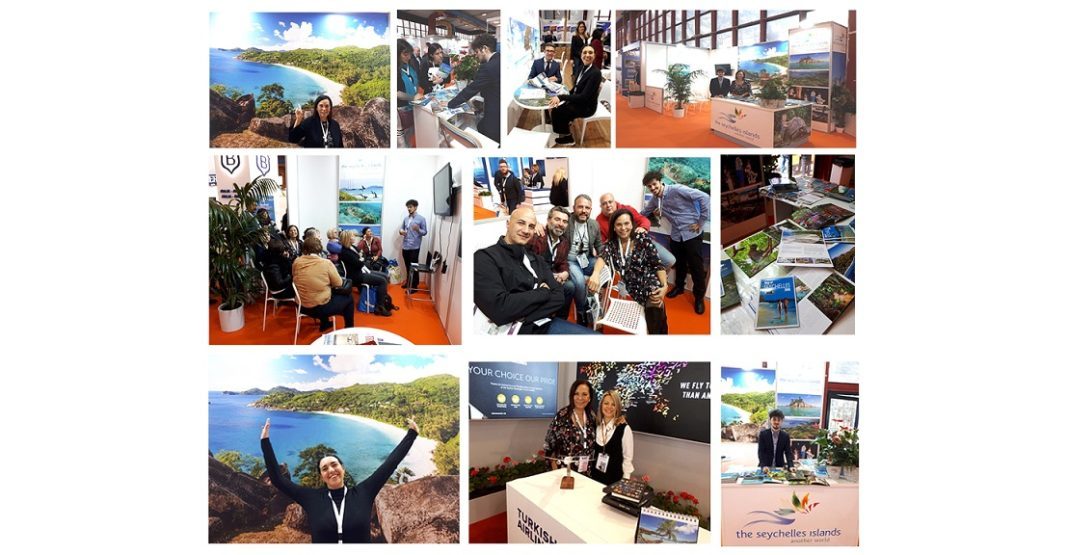 Seychelles showcased in Naples, Italy, as STB attends successful 2018 BMT trade fair
The Seychelles Tourism Board (STB) participated in the 22nd edition of the Borsa Mediterranea del Turismo (BTM) one of the most important travel trade show in Southern Italy.
The 2018 edition of the BMT fair was held from March 23 to 25, at the Mostra dOltremare in Naples.
Registering some 20,000 visitors and 500 exhibitors, BMT organized four workshops, dedicated to four strategic areas: Mice, Incoming, Wellness & Spa and Social Tourism. Each workshop recorded a very high attendance.
The Seychelles team at the event was led by the STB Director for Italy, Monette Rose, and Marketing Executive, Lorenzo Sironi. STB partnered with AVANI Seychelles Barbarons Resort & Spa, which was represented by Alice Ciotti, from the resort's commercial department.
The Seychelles' stand displaying images that showcase the beauty, diversity and cultural heritage of the Indian Ocean archipelago, caught the attention of many visitors.
The STB and AVANI Seychelles Barbarons Resort & Spa team hosted several business-to-business meetings with trade partners and also had the opportunity to deliver three presentations on the destination, to different groups of tour operators and travel agents. The presentations also attracted other visitors at the trade fair.
The Italian tour operators and travel agents were highly interested to discover more about the diverse activities, such as island hopping, trekking, fishing, among others and also enquired about the wide range of the accommodations available. A guidebook entitled 'Hiking in Seychelles' launched in Paris last year, also gathered much interest.
The trade fair was also a great opportunity for STB to renew cooperation with its main tour Operator partners and develop partnership with new travel agents, as well as strengthen relations with the media.