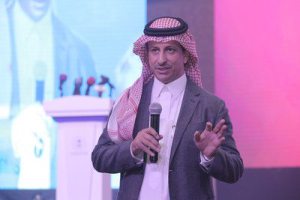 Saudi Arabia Ready to Become a Global Entertainment Hub
Saudi Arabia's General Entertainment Authority (GEA) will host an unprecedented number of events in the Kingdom this year, with more than 5,000 live shows, festivals and concerts planned in 56 cities across all regions. The 2018 calendar is the most diverse line-up of live entertainment ever seen in Saudi Arabia, ranging from musicals and shows for all the family, to stand-up comedy and live performances from some of the biggest names in global music. The announcement was made at a special event in Riyadh in the presence of His Excellency Ahmed Bin Aqeel Al Khatib, Chairman of the Board, and the CEO of GEA, Eng. Faisal Bafarat, alongside a number of Excellencies and esteemed guests.
His Excellency Mr. Ahmed Al Khatib, Chairman of the General Entertainment Authority said: "The GEA is taking accelerated steps towards enhancing lifestyle in all regions of Saudi Arabia by providing rich and diverse entertainment options and experiences for people to enjoy. GEA contributes directly to the objectives of the Quality of Life programme, which aims to achieve a thriving economy and a vibrant society in which citizens and residents enjoy a better quality of life."
He revealed that the entertainment sector needs SAR 267 billion of investment to build entertainment infrastructure in all regions of the Kingdom, and investment in infrastructure between 2017 and 2030 is expected to contribute SAR 18 billion per year to Saudi Arabia's GDP, with consumer spending estimated to reach SAR 36 billion by 2030.
"GEA is proud to be one of the drivers of transformation in the Kingdom, through its clear purpose to build a world-class entertainment industry that will put the Kingdom of Saudi Arabia on the global tourism and entertainment map," he added.
Eng. Faisal Bafarat, Chief Executive Officer, General Entertainment Authority said: "This year will not only provide more opportunities for people to share rich experiences with family and friends, but will also significantly contribute to the continued development of the entertainment industry in the Kingdom. 2018 marks a change in pace thanks to the sheer scale of the programme we are offering. Thousands of events will be organised and regulated, providing more opportunities than ever for us to continue to enhance the quality of entertainment events in the Kingdom, as well as adhere to the highest international standards."
Bafarat presented the 2018 entertainment line-up highlights which include 55 headline events alongside thousands of events hosted by private organisers, municipalities and governorates that will be supported by GEA.
His Excellency Ahmed Al Khatib, Chairman of the Board, General Entertainment Authority, launching the 2018 Entertainment Calendar. (PRNewsfoto/General Entertainment Authority)
"The diversity and scale of the 2018 entertainment program will play a significant role in the continued growth of the entertainment industry in the Kingdom with a total of 224,000 new jobs, including 114,000 direct and 110,000 indirect jobs expected to be created in the sector by 2030," Barafat said. "Families, young people and children will be able to enjoy live music performances, theatre shows, musicals, circus performances, community festivals and much more across the Kingdom," he added.
The General Entertainment Authority was established in 2016 and managed 52 events that year which were attended by more than 100,000 people. In 2017, the Authority hosted more than 2,200 events attended by 8.2 million people. The 2018 calendar will feature more events than ever taking place throughout the Kingdom, including performances from some of the world's most celebrated artists.
The General Entertainment Authority is a government-sanctioned body borne out of Saudi Arabia's Vision 2030 program. The Authority looks to develop, promote, regulate and fund a competitive entertainment infrastructure in the Kingdom of Saudi Arabia, partnering with both government bodies and the private sector to achieve this ambition