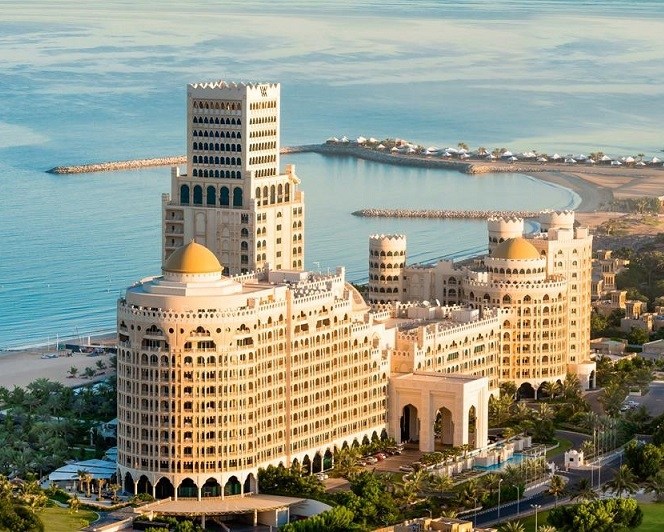 Ras Al Khaimah to host WTA Middle East Gala Ceremony 2018
World Travel Awards (WTA) has revealed its Middle East Gala Ceremony will be hosted in Ras Al Khaimah, United Arab Emirates (UAE) on 19th April 2018.
The red-carpet ceremony heralds the opening leg of the WTA Grand Tour 2018 – a search for the finest travel and tourism organisations in the world. The Grand Tour 2018 also marks WTA's 25th anniversary of honouring excellence in the international hospitality industry.
It will be WTA's first visit to Ras Al Khaimah, the most northerly of the UAE's seven emirates. The burgeoning tourism hotspot boasts an enviable climate, traditional culture, sandy beaches and a wealth of activities, including the world's longest zipline, Jebel Jais Flight, on the UAE's highest mountain.
Hospitality leaders from across the region will gather for WTA's Middle East Gala Ceremony at the Waldorf Astoria Ras Al Khaimah on 19th April 2018 to see who among them has been voted the best in the business.
Graham Cooke, Founder and President, WTA, said: "It will be an absolute pleasure to visit Ras Al Khaimah for the very first time. Fringed by the majestic Al Hajar Mountains amid swathes of terracotta coloured dunes, Ras Al Khaimah promises an authentic Arabian experience."
"WTA has maintained its position as the industry leader for the past 25 years, consistently proving its value as the global benchmark for excellence in the travel, tourism and hospitality business," added Cooke.
"This year will be extra special as we will be celebrating our 25th anniversary so there is a lot to look forward to, starting with our Middle East Gala Ceremony 2018 in partnership with Ras Al Khaimah Tourism Development Authority."
As part of the Grand Tour 2018, WTA is also hosting ceremonies in Athens (Greece), Jamaica, Hong Kong, Guayaquil (Ecuador), Durban (South Africa), with the winners progressing to the Grand Final in Lisbon (Portugal).
A natural complement to the bright lights and skyscrapers of Dubai just 45 minutes' drive away, Ras al Khaimah offers authentic and nature-based adventure and culture, with year-round sunshine, spectacular landscapes, 64km of sandy beaches, enticing desert adventures, adventure sports activities in the mountains and first-class places to stay.
Haitham Mattar, CEO, Ras Al Khaimah Tourism Development Authority (RAKTDA), said: "It is a great honour to welcome the prestigious World Travel Awards gala dinner for the first time to Ras Al Khaimah, an event that brings together travel industry leaders worldwide. Choosing Ras Al Khaimah to be the host of this event is testimony of our growing appeal within the MICE sector and we look forward to the guests experiencing our authentic Arabian hospitality and diverse tourism offer."
The WTA Middle East Gala Ceremony 2018 will take place alongside the Arabian Hotel Investment Conference (AHIC) which runs from 17th-19th April. The leading hotel investment conference connects business leaders from the international and local markets, driving investment into tourism projects, infrastructure and hotel development across the region. It is attended by the highest calibre international hotel investors of any conference in the Middle East.
Voting for the WTA Middle East Gala Ceremony is now open and runs until 18th March 2018.