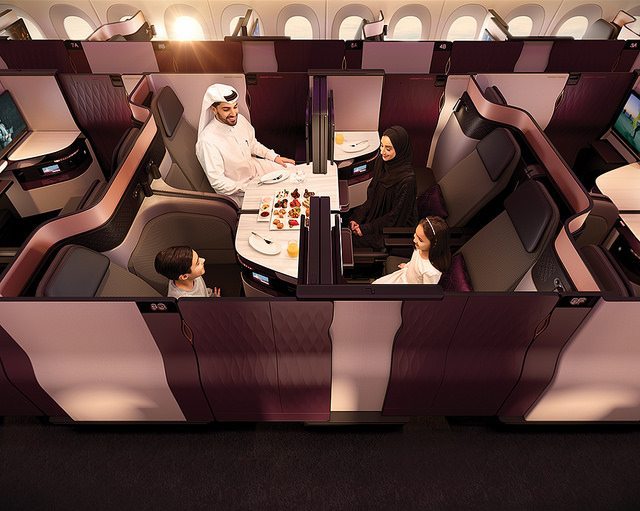 Qatar Airways to showcase its Airbus A350-1000 and Gulfstream G650 ER at Eurasia Airshow
Qatar Airways will be showcasing two of its state-of-the-art aircraft during Eurasia Airshow, which is set to take place in Antalya, Turkey from 25 to 29 April. The airline will be displaying the world's most advanced passenger aircraft, the Airbus A350-1000, featuring the revolutionary Qsuite Business Class seat, Qsuite. Also on display during the airshow will be the Gulfstream G650 ER, a premium Qatar Executive aircraft and industry-leading, long-range business jet.
Qatar Airways Group Chief Executive, His Excellency Mr. Akbar Al Baker, said: "Qatar Airways is delighted to be participating for the first time at this year's Eurasia Airshow. Visitors from across the world will be able to experience the five-star services and product provided by our airline. Turkey has always been one of our passengers' preferred destinations, due to its ongoing growth in popularity for both business and leisure travel. As such, we have recently announced a non-stop service to Hatay, which commenced on 4 April. Hatay is our fifth destination within Turkey, reflecting the close relationship between the State of Qatar and Turkey. We are also tremendously excited to be launching a direct service to Antalya and Bodrum in June."
Qatar Airways currently operates direct flights to Istanbul's Sabiha Gökçen Airport twice daily, to Istanbul Atatürk Airport 10 times weekly, to Adana Şakirpaşa Airport three times weekly, a daily service to Ankara's Esenboğa Airport and three times weekly to Hatay Airport, bringing the total to 37 weekly flights between Doha and Turkey.
As the global launch customer for the Airbus A350-1000, the award-winning airline is pleased to be offering its passengers the most spacious cabins in the sky, fitted with the Qsuite Business Class seat. Qsuite features the industry's first Business Class fully lie-flat double bed, a revolutionary quad design offering passengers a private and fully adaptable space – the first and only of its kind – in addition to movable TV monitors and privacy dividers, which transform the space into an area perfect for socialising.
The A350-1000 is Airbus' largest wide-body aircraft in the twin-aisle category. With a seven-meter longer fuselage, the A350-1000 space for premium cabin products is 40 per cent larger than its smaller sibling the A350-900. The A350-1000 has 46 Business Class seats and 281 Economy Class seats. It is a truly long-range aircraft with a range of 8,000nm (14,800 km) at entry into service.
The airline also recently took delivery of its fourth state-of-the-art Gulfstream G650ER executive aircraft, the fastest ultra-long-range business jet in the world, making Qatar Airways the world's largest owner-operator of Gulfstream G650ERs.
As well as having an impressive flying range of up to 7,500 nautical miles at Mach 0.85, the G650 ER also has a top speed of Mach 0.925. Inside, the G650 ER cabin features an award-winning quiet and spacious interior with wide seats, generous aisles, panoramic windows, Internet and phone access as well as the lowest cabin altitude in the industry.
Starting 1 July, Qatar Airways will begin operating a Boeing B787 between Doha and Sabiha Gökçen International Airport in Istanbul, to accommodate for the summer traffic increases, to and from this renowned destination.