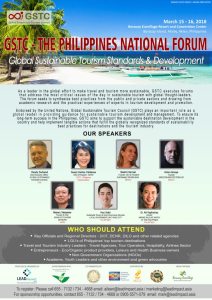 Philippines National Forum on Global Sustainable Tourism Standards & Management to be held
With the aim of supporting sustainable destination development and management in the Philippines, the Global Sustainable Tourism Council (GSTC) together with the Society for Sustainable Tourism & Development Inc. (SSTDI) and LEADimpact Asia, are set to deliver, with proposed partners, national agencies such as Department of Tourism and the Department of Environment & Natural Resources, the GSTC – The Philippines, National Forum to be held on March 15-16, 2018, Boracay Island. The National Forum, titled "Global Sustainable Tourism Standards & Development" aims to target Tourism industry leaders, CEOs, LGUs, Destination Managers, hoteliers, resort owners and developers, NGOs and the academe in order to fully implement the UNWTO global sustainability criteria throughout the archipelago of 7,641 islands.
A key outcome of this National Forum will be to launch various Sustainable Tourism Training Programs in crucial destinations, as well as all the regions of the Philippines to help implement tangible actions that fulfill the globally recognized standards of sustainability best practices for destinations and the industry with the end goal for DOT standards to be GSTC recognized.
Ms. Susan Santos de Cardenas, GSTC Country Representative and Trainer, emphasized that "the GSTC, a Global Authority on Sustainable Tourism, is a UN-endorsed independent organization playing a critical role as the global leader in providing guidance for sustainable tourism development and management. Thus, as the global expert the GSTC pursues the goals of sustainable tourism knowledge and practices training; facilitating the adoption of universal sustainable tourism standards; and building demand for sustainable travel in the Philippines".
"It is high time that the Department of Tourism, together with national agencies, such as the DENR, the CCC and the NCCA, will lead the right way forward towards a sustainable and climate resilient industry for the Filipino people and its future generations in the fulfillment of the Philippines Sustainable Development Goals with the adoption of the GSTC Standards," she added.
Crucial to this event is the participation of both public and private tourism industry stakeholders, thus, both public and private tourism stakeholders are invited in this limited-slot national forum, in order to concretize the sustainable tourism actions and truly fulfill the Tourism Act R.A. 9595, highlighting sustainability and climate resilience.
"Exemplary global models from international experts in sustainable tourism and development from all over the world will be sharing their best practices with "triple bottom line" (Planet-People-Profit), as well relevant lessons are to be learned where the National Forum will be, at the critically endangered Boracay Island", Ms. Cardenas revealed.
For more information and details on the National Forum, please contact Ms. Aileen Adjawie, National Forum Secretariat, Email: [email protected] and Mobile No.: 0977 – 6429925; or check out the Facebook pages of the Global Sustainable Tourism Council, Society for Sustainable Tourism and LEADImpact Asia.