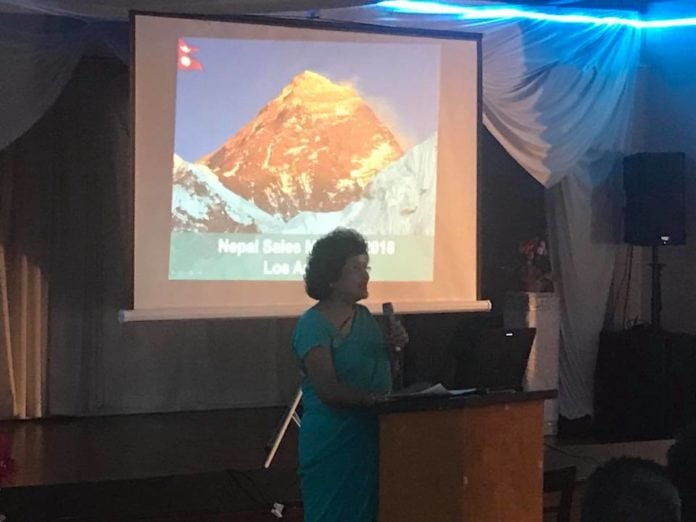 Nepal Tourism Summit Los Angeles: Travel agents were able to taste, feel and see it
Nepal Tourism was in Los Angeles Wednesday night. "This feels like stepping into Nepal for a few hours", Rico, a Los Angeles based travel agent told eTurboNews. He was not only talking about the exciting video presentation he just saw about Nepal. The decoration, the food, and the atmosphere and of course.
This evening, the 2018 US Summit/Sales Mission for the Nepal Tourism Board concluded in Los Angeles at Tara's Himalayan Cuisine, in Artesia, and was a special occasion with the Nepal Tourism Board welcoming and hosting the Honorary Consul General of Nepal, Rishi P.Dhakal, and his special guest a dignitary from the Artesia City Council, who hails from Nepal.
Tonight's Grand Prize Winner of a trip of a lifetime for two to Nepal, provided by the Nepal Tourism Board was Ozella Anderson from Ozee Travel in Los Angeles.
The overall messaging to the US media, travel agents and tour operators was to discover the culture, food, heritage, wellness and romance products available to high per diem US travelers to Nepal.
While Nepal is well known for her mountains and adventure programs, a wide range of new product development was presented to showcase and promote honeymoons, destination weddings, yoga/wellness, community volunteerism, experiential travel, accessible travel, and food/culture.
Tourism is the largest industry in Nepal and its largest source of foreign exchange and revenue. Possessing eight of the ten highest mountains in the world, Nepal is a hotspot destination for mountaineers, rock climbers and people seeking adventure.
The Hindu and Buddhist heritage of Nepal and its cool weather are also strong attractions.
After India and China, the United States is the third largest inbound tourism market for Nepal with 79146 visitor arrivals in 2017.
The Nepal Summit was organized by New York based TravelMarketingNetwork . The company specializes in the travel and tourism marketing representation and consulting and is owned by eTN Corporation in Haleiwa, Hawaii.
eTN Corporation operates this publication eTurboNews (eTN).
yahoo