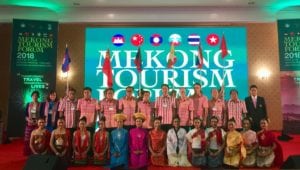 Mekong Tourism Forum 2018 opens in Nakhon Phanom
Thailand's Vice Minister of Tourism HE Ittipol Khunpluem officially declared the 21st Mekong Tourism Forum 2018 open to an estimated record 370 attendees in the northeastern riverside town of Nakhon Phanom, Thailand.
No stranger to tourism HE Ittipol Khunpluem was the former mayor of Pattaya and was appointed Vice Minister of Tourism in April 2018.
This annual event draws tourism decision makers from the six countries of the Greater Mekong Sub-region and is being held from the 26 to 29 June at Nakhon Phanom university with the theme of 'Transforming Travel – Transforming Lives.