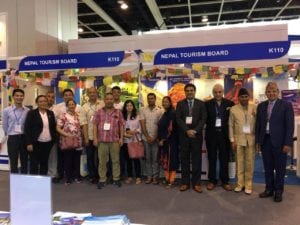 Nepal Tourism Board in Hong Kong reaching out to MICE and leisure tourism
The 32nd International Travel Expo (ITE) & the 13th MICE Travel Expo in Hong Kong is finishing today and Nepal Tourism Board had a big part in it.
Nepal Tourism Board (NTB), Nepal Airlines Corporation (NAC) and four tourism companies represented Nepal in the global event and exchange programme. ITE Hong Kong is the city's only travel fair, is the successful combinations of leisure, MICE and theme travels, and visitors of trade, professional and affluent FIT; featuring of some 100 highly popular travel seminar in public days with some filling up by 200 audiences, as compared to the nearly 30 travel and MICE seminars in trade days; and its profiles of highly international exhibitors and regional trade visitors, etc.
Occupying Hall 1 A to Hall 1E of the Hong Kong Convention & Exhibition Centre, ITE Hong Kong held for the trade and professional from June 14 and 15 and for the public from June 16 to 17.
The two trade days had over 12000 trade and MICE visitors of which over 70 percent from Hong Kong and some 30 percent from mainland China and abroad; and in the rest two public days the 90000 visitors with 87 percent preferring FIT and private tours had visited the fair. ITE combines a trade fair and an FIT travel fair.
There were around 670 exhibitors of which 85 percent from abroad and about 180 exhibitors targeting MICE; some 55 participating countries and regions with around half from outside Asia. Nepal booth located near the entrance of Hall 1C had attracted hundreds of visitors to her stall. The affluent travellers were presented theme travels and were also briefed about the national campaign Visit Nepal Year 2020.
Nepal Airlines had offered special fare for the month of June for the travellers of Hong Kong to Nepal. Nepal Tourism Board distributed free souvenirs like peacock window, Buddha Statue and Nepali Cap and posters of Everest, Pokara & Lumbini beside other related tourism information. Nepal Airlines also had distributed Tea Mug, Pens, and Diaries. This also added value in attracting hundreds of travellers to the stall.
Speaking with visiting Press at ITE, Director of Nepal Tourism Board Mr. Mani Raj Lamichhane mentioned that Government of Nepal has declared 2020 as Visit Nepal Year with the target of having 2 million tourists to Nepal and hopes to have the number of visitors doubled to from Hong Kong SAR and China. He seeked assistance from the reputed travel media from Hong Kong SAR in disseminating positive news / features about Nepal. Gastronomy, Nepal's new added product value too was briefed.
On trade days, tour operators / travel agents were briefed about the campaign and requested their assistance in promoting Nepal through their websites / catalogues. Nepal Airlines offered them special fares for the sector and assured them of quality and reliable services.
On the public days, visitors collected travel information like travel map and product details, and asked questions especially those about the last mile! Visitors were also offered various great offers from the participating companies, some were unique travel products while others at good prices. The participating companies were Scenic Nepal Adventure, Sathi Nepal Tours & Travel, Trekker Nepal Pvt Ltd & Travel Light Pvt. Ltd. Nepal Tourism Board was represented by Mani Raj Lamichhane, Director and Pradip Basnet, Officer while Nepal Airlines was represented by Indira Khadka, Sr. Officer and Nayan Sharma, Officer.
Organized by TKS Exhibition Services Ltd., ITE Hong Kong is supported by Ministry of Culture and Tourism of the People's Republic of China, Hong Kong Tourism Board, Macao Government Tourism Office, Travel Industry Council of Hong Kong, MICE and trade associations etc.
Related
yahoo