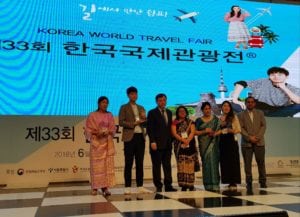 Korea World Travel Fair (KOFTA): Nepal Tourism awarded
Nepal's participation at the 33rd Korea World Travel Fair (KOTFA) 2018, from June 14 at COEX Convention & Exhibition Center, 159-9 Samseong 1(il)-dong, Seoul, concluded successfully on June 17. The 4-day show ended on a positive note for Nepal with the Nepal Stall being awarded Best Booth Operation Award for "its outstanding booth operations with the warmest hospitality and excellent display".
Nepal's participation at the fair was led by Nepal Tourism Board (NTB) in coordination with five companies from the private sector: Annapurna Treks & Expedition Pvt. Ltd., Appointment Travels & Tours Pvt. Ltd., Budget Travels & Tours Pvt. Ltd., Pema Treks & Expedition Pvt. Ltd., and Wings Treks & Expedition Pvt. Ltd.
The platform was used by Nepal to communicate fresh updates on tourism front and to create visibility of Nepal as a destination in Korea market.
KOTFA, the largest international travel fair in South Korea, is an ideal platform to reach out to the target market of Korea. More than 50 countries and 50 domestic companies participated in the show to promote their destinations and products. The fair provided an opportunity to meet with Korean travelers and foster mutual relationship with local, regional and global partners.
South Korea, with 50 percent Buddhist population, is a steadily growing market for Nepal. Most Koreans view Nepal as the birthplace of Lord Buddha, a pilgrimage destination, spiritually healing and fulfilling.They usually visit Lumbini, Pokhara and trek in the Annapurna or Everest region. Korean visitors to Nepal are usually high-end tourists who are educated and have spending power.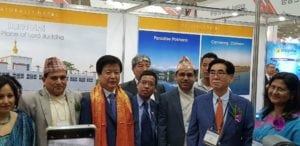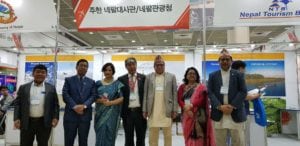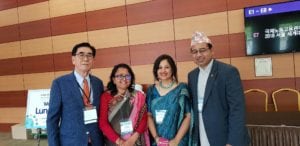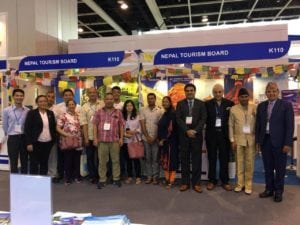 Nepal Tourism Board
Nepal and South Korea have shared friendly diplomatic relations since 1974. With more Korean tourists visiting Nepal every year, and around 26,000 Nepalis living in South Korea for employment, cultural proximity has grown in the last decade.
South Korea-Nepal sector is directly connected by Korean Air which flies Seoul-Kathmandu four times a week. Additional options are available through other online carriers. Facilitating South Korea relations are Nepal Embassy in Seoul and Embassy of the Republic of Korea in Kathmandu. Korean travelers can obtain Nepal visa from the Nepal Embassy in Seoul, or on arrival at Tribhuvan International Airport (TIA) in Kathmandu and the immigration offices at Birgunj, Kakkadbhitta, Nepalgunj, Bhairahawa and
In 2017, Nepal reached a milestone with the arrival of 1 million tourists. The total number of South Korean tourists in Nepal in 2017 was 34,301 almost double the number from 5 years ago.
With vision of getting 2 million tourists in 2020 and 5 million by 2030, Nepal's hopes are anchored on the growth of arrivals from close neighbors and regional tourism. The trend of regional tourism has also been booming with dramatic growth of Asian low-cost carriers (LCCs) that has opened up new routes and spurred up the travel industry in the continent.
Related
yahoo