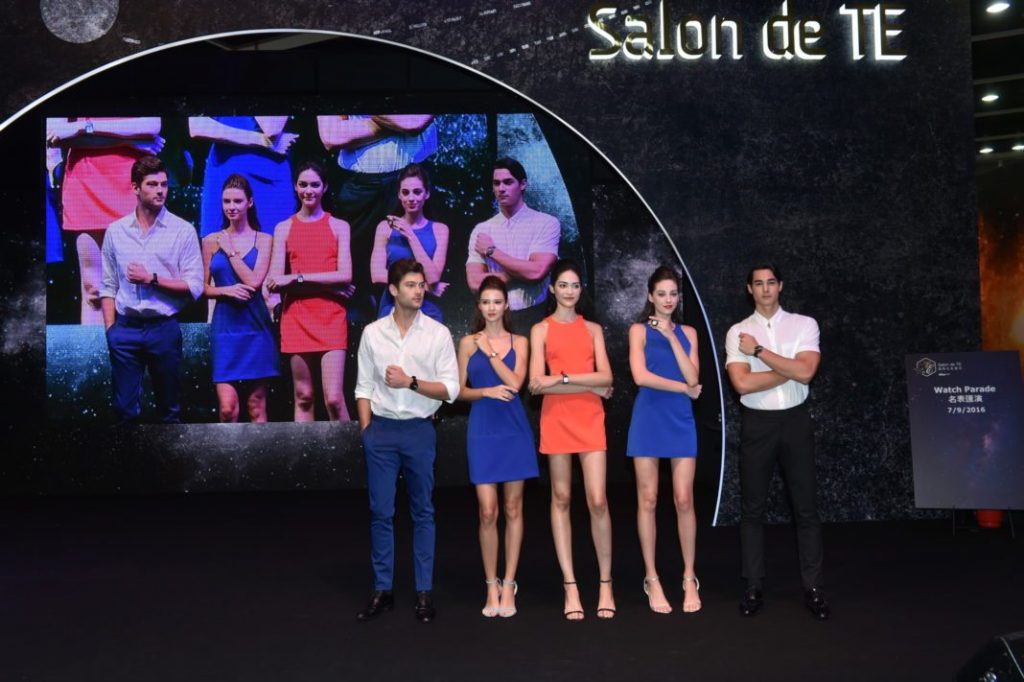 Nearly 21,000 buyers attended Hong Kong Watch & Clock Fair and Salon de TE
The 36th edition of the HKTDC Hong Kong Watch & Clock Fair ended its five-day run (5-9 September) today at the Hong Kong Convention and Exhibition Centre (HKCEC). Jointly organised by the Hong Kong Trade Development Council (HKTDC), Hong Kong Watch Manufacturers Association Ltd and The Federation of Hong Kong Watch Trades and Industries Ltd, the fair welcomed nearly 21,000 buyers from 92 countries and regions, up 4 per cent over the previous year. Buyer attendance from the Chinese mainland and elsewhere in Asia such as Indonesia, Korea, Singapore and Vietnam, as well as other regions including Canada, France, Iran, Russia and the United Kingdom saw satisfactory growth.
"Hong Kong exports a wide range of watches and related products, including analogue watches, electronic watches, jewellery watches, sports watches, as well as parts and components," said HKTDC Deputy Executive Director Benjamin Chau. "Many Hong Kong watch and clock companies have started developing ODM and OBM businesses. Amid the prevalent trend towards smart products, smart watches are also becoming more popular. To help the industry harness new business opportunities, the HKTDC set up the OEM Smart Watches and Wearable Tech zones at the fair to showcase branded smart watches, complete watches and parts, as well as technology solutions."
Survey: overall sales in 2018 seen steady, smart watches trending
The HKTDC commissioned an independent market research agency to conduct an on-site survey during the fair, interviewing 834 buyers and exhibitors about their views on market prospects and product trends. According to the results, more than half (53%) of the respondents expect overall sales in 2018 to remain unchanged, while 41 per cent expect a growth, and six per cent expect a decrease. As for retail prices, 59 per cent of the respondents predict retail price to remain unchanged. Most of the respondents view Western Europe and North America to be the most promising traditional markets, while the Chinese mainland and ASEAN countries are seen as having the best prospects among emerging markets in 2018.
In terms of product trends, smart watches (33%), digital analogue watches (23%) and automatic watches (17%) are viewed as the most popular categories, while leisure type watches (46%), smart watches (41%) and fashion watches (32%) are considered to have the biggest growth potential. In addition, watches that can interact with smart devices (47%), collections that align with current season's fashion trends (33%) and mix & match watches with changeable parts to match clothing (29%) are predicted by respondents as the most prevalent product development strategies in 2018.
Smart watch zones create new business opportunities
KaHa Pte, a large Singaporean technology company, showcased a series of smart watch technology at the OEM Smart Watches zone, including cloud-based services and data analytics solutions. Justin Tang, COO and co-founder of the company, said that they had identified three to four potential buyers from the Middle East and South Africa.
Illustrating the importance of design concept for smart watch success, Hong Kong exhibitor Exclamation Ltd presented its Cupid Memory timepieces at the Wearable Tech zone. The fashionable series of smart watches can share images and videos via mobile app, functions deemed essential among teenage users. Polly Yu, CEO of the company, said the brand had attracted strong interest from Taiwanese and Korean buyers.
Meanwhile, many buyers are exploring new directions for smart devices at the fair. Czech buyer David Hriech, co-founder of 24Time.CZ, found various watches that combine smart technology with traditional analogue style and would consider bringing them to his market. Yuri Stefanov, founder of Ru Ltd, a Bulgarian dealer, said that smart watches are considered new products at their local market with huge potential. "We plan to launch our own watch brand next year. We are looking for OEM manufacturers at the fair and are now negotiating with 10 potential suppliers from the Chinese mainland and Hong Kong."
Orders from global buyers
The Hong Kong Watch & Clock Fair is a one-stop sourcing platform, providing quality and diverse choices for watch brands, distributors and retailers.
Among them was Ethan Kim, International Luxury Fashion Buyer from the Korean department store Shinsegae, who said the demand for European luxury brands in the Korean market is steady and Salon de TE helped him keep up with the latest watch trends. He found three to four Italian and Swiss brands that have yet to enter the Korean market and planned to further negotiate with them.
French exhibitor Pierre Lannier Sarl was among those at Salon de TE. Martial Butscher, Director of Export of the company, said that they signed distributor agreements with buyers from the Philippines and Malaysia on the spot, and negotiations were underway with distributors and retailers from other countries and regions, including Australia, India, Israel, Japan, the Chinese mainland, Iran and South America.
In its second visit to the fair, Swiss buyer House of Watches was looking for parts and components. Naresh Lakhwani, Business Operator of the company, said they had placed an order valued at US$50,000 for watch straps and display boxes.
Concept Brands Group, a dealer from Dubai, came to Hong Kong for the first time to look for OEM manufacturers. Sanjay Motwani, Assistant Buyer of the company, said that they had found 10 suppliers from the Chinese mainland, and expected to purchase 15,000 to 20,000 products from each of them.
Looking for parts and components, Randy Williams, President of Talley & Twine from the United States, came to the fair for the first time. Mr Williams said he was interested in products from six to 10 exhibitors from Hong Kong and the Chinese mainland, and had placed trial orders of 500 pieces of products.