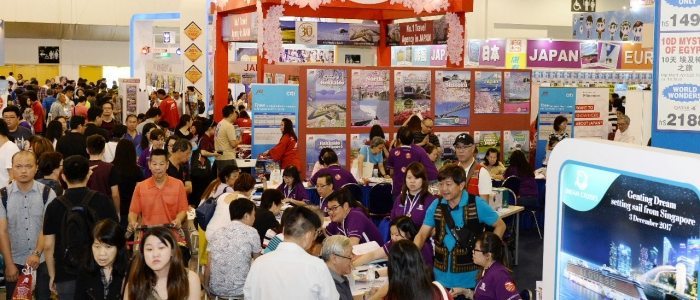 NATAS Travel 2018 ended on a high note in Singapore
Singapore's largest consumer travel fair, NATAS Travel 2018 ended on a high note on Sunday. Over the weekend, 83,291 visitors flocked through the doors of Singapore Expo Halls 4 and 5A, eager to purchase the best travel deals spanning tour packages, airline tickets and cruise itineraries. With everything under one roof, the travel fair provided a comprehensive one-stop shop for visitors planning their next dream getaway.
The three-day fair, which lasted from Friday to Sunday, was NATAS' 52nd Travel Fair since the inception of NATAS fairs in 1987, and featured 87 exhibitors showcasing their products over a total of 710 booths. With many travel agencies celebrating major anniversaries, NATAS Travel 2018 saw extra discounts and special perks on offer to the delight of consumers, bringing to reality the fair's official tagline, #RealDealsatNATAS.
During his opening speech, Mr. Steven Ler, President of NATAS spoke of the strong bonds and cooperation between travel agents, National Tourism Organisations and travel-related partners, and how each of these play an important part in the multi-faceted and dynamic travel industry.
"The outstanding support that NATAS Travel 2018 received from the travelling public is highly encouraging and is proof not only of Singaporeans' avid desires for travelling, but moreover, the confidence that consumers have in travel agents and the NATAS brand" said Mr. Steven Ler.
Visitors were entertained by spectacular performances put on by various National Tourist Organisations and travel agents. Highlights included Bavarian Music performed by Holledauer musicians and a Dirndl fashion show sponsored by Lufthansa Group, cultural performances from Indonesia and Uzbekistan, and destination talks introducing Caucasus, Morocco and Broome, Australia.
Mr. Clifford Neo, Chairman-Outbound Tours of NATAS remarked "we are thrilled with the strong showing for NATAS Travel 2018. In addition to looking for the best travel deals, visitors were also attracted to the many premiums offered by our supporting partners such as Mastercard Worldwide and our bank partners, and the attractive discounts and premiums offered by Travel Guard by AIG."
NATAS Travel 2018 was opened on 23rd March 2018 by His Excellency Dr. Ulrich A Sante, Ambassador of the Federal Republic of Germany to Singapore, with an attendance of over 100
guests including dignitaries from embassies, the travel industry and airlines. In his welcome address, Dr. Ulrich highlighted the distinct features of many German towns and cities, cementing the rich culture and history that Germany encompasses as a whole.
The next fair, NATAS Holidays 2018, will take place in August 2018 at Singapore Expo.